An Australian "miracle" baby made it home in time for Christmas after her parents trusted in God with their daughter's life.
According to the Australian ABC News, Elsie Kathleen Cox was born with her liver, stomach and intestines outside of her body, a serious and sometimes fatal disorder known as a giant omphalocele.
But after nearly three months in the hospital, Elsie grew well enough to go home with her parents, Hannah and Simon Cox, of Burnside, for her first Christmas, the news outlet reports.
"She's definitely a miracle," Hannah Cox said. "We've been told that many times in the medical world by different specialists."
About a year ago, Cox said Elsie was diagnosed with the condition during her three-month pregnancy appointment. Although Elsie was alive, her parents were told that she may not be "compatible with life" – a term frequently used to dehumanize born and unborn people with disabilities. Other families of babies with the same condition say doctors pressured them to have abortions, but they refused.
The reports did not mention abortion in the Cox family's case, but it is possible that doctors suggested it. Rather than give up hope, the Coxes said they trusted in God with their daughter's life and tried to cherish every moment that they had with her.
Please follow LifeNews.com on Gab for the latest pro-life news and info, free from social media censorship.
"It was that constant battle of trying to not get too anxious, but also not too excited, because you have this fear that these things could happen that they keep telling you could go wrong," Hannah Cox remembered. "However, we were still trying to cherish the pregnancy and not let it be completely terrifying and trying to celebrate the good parts …"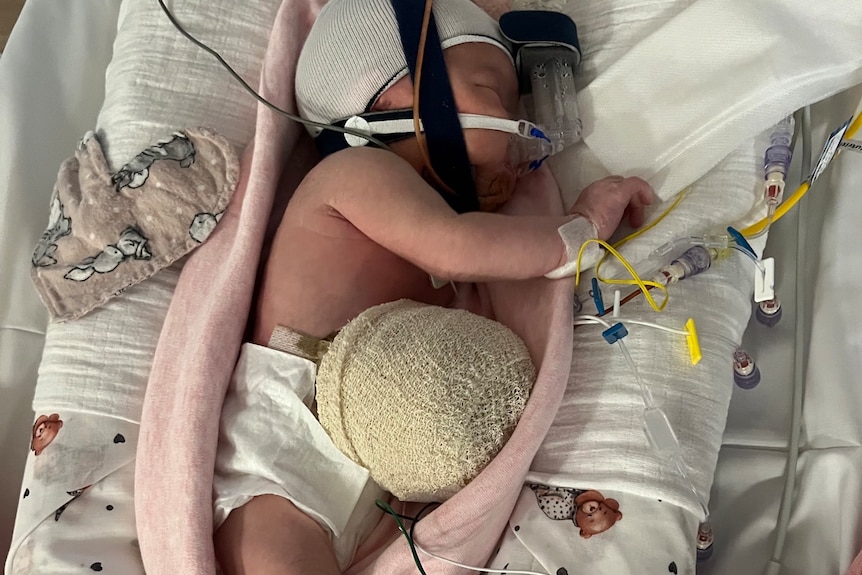 The couple said their church community provided a lot of comfort to them during those difficult days. They also chose their daughter's name, in part, because of their Christian faith.
"Elsie means God is perfection," her mother said. "We just like the meaning because the whole time we just clung to God and knew that he was the author of the story. We needed to go with him and let him guide and help her and we'll just do everything we could."
When she was nearly full-term, Cox underwent a complicated cesarean section performed by Dr. James Aridas and a team of medical professionals on May 30 at the Mater Centre for Maternal Fetal Medicine at Mater Mothers' Hospital, News Australia reports.
"This was definitely the biggest omphalocele I have seen. It was a very delicate, challenging delivery. But everything went to plan," Aridas told the news outlet.
Hannah Cox said she felt relief when she heard her daughter cry in the delivery room. The next few weeks, however, brought many ups and downs for the family. The Coxes said they had to wait several days before they even could hold Elsie.
Then, the baby girl became too sick to perform the operation to place her organs back inside her body. Instead, her mother said the doctors bandaged the omphalocele, allowing skin to grow around it and the organs to slowly sink back into her body through a hole in her skin, according to the report.
Elsie spent about three months in the hospital. Now at home, she still uses oxygen and eventually will need surgery, but her parents said she is happy and strong.
"Her tummy is pretty much flat now; she has a little bump which looks like a hernia, but it's actually just her intestines still moving down," her mother told News Australia. "Her body still needs some time to heal."
Hannah Cox expressed gratitude that her daughter was able to come home in time for Christmas.
"It's been a big journey and she's worth every minute of it," she said. "We never imagined we would be home for Christmas with Elsie and sharing her with our friends and family is a precious joy."