Nancy Pelosi can't figure out that an unborn baby at 15 weeks is a human being.
With the Supreme Court considering a Mississippi law that bans abortions on babies after 15 weeks, CNS News is asking Democrat senators if the baby at that point in pregnancy is a human being worth protecting. Pelosi couldn't answer the question.
Instead, the pro-abortion House Speaker said she supported Roe v. Wade, which allows abortions up to birth, and she claimed she was an expert on abortion because she has children — even though she supports killing such children in abortions.
"Let me just say that I am a big supporter of Roe v. Wade. I am a mother of five children in six years. I think I have some standing on this issue as to respecting a woman's right to choose," Pelosi, D-Calif., said during her weekly press conference Thursday.
Below is an image of an unborn child at 15 weeks. This little boy or girl is a human being from conception: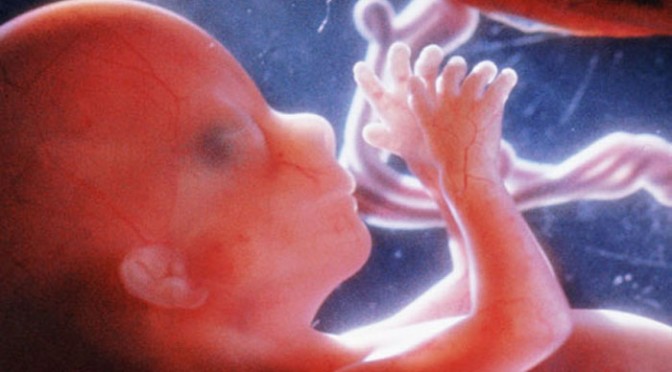 Earlier this year, Nancy Pelosi said it should be up to her own judgement whether she should receive communion despite her longstanding pro-abortion record. But a Catholic Archbishop rebuked her, saying she is "cooperating with evil" by supporting abortion.
Click here to sign up for pro-life news alerts from LifeNews.com
As LifeNews.com reported, Pelosi says she should be able to get communion even though she is a pro-abortion Catholic. The ardent abortion advocate insists she can use her own judgment on whether or not she is eligible to receive the sacrament despite winning pro-abortion awards and blocking a bill to stop infanticide.
"I think I can use my own judgment on that,"
Pelosi said of receiving Holy Communion.
Pelosi also said she appreciated a letter from the Vatican that swatted down efforts by some of America's Catholic bishops to cast a vote on whether or not its appropriate for pro-abortion Catholic politicians like her and Joe Biden to receive communion.
But her bishop, Archbishop Salvatore Cordileone of San Francisco, rebuked her, saying he's glad she liked the letter from the Vatican because it calls on Catholic Church leaders like him to hold abortion advocates like Pelosi accountable:
I'm happy to know that Speaker Pelosi said she is pleased with the letter of Cardinal Ladaria, Prefect of the Vatican's Congregation for the Doctrine of the Faith, to Archbishop Gómez, President of the United States Conference of Catholic Bishops, regarding the issue of Catholics prominent in public life who advocate for practices that are gravely evil.  In that letter, Cardinal Ladaria advises the U.S. bishops to use as a guide in discerning how to address this situation the principles laid out in a private letter in 2004 from the then-Cardinal Ratzinger, Prefect of the CDF at the time, to the bishops of the United States.
Archbishop Cordileone made it clear that Ratzinger's letter calls promoting and supporting abortion "cooperating with evil."
In his letter, Ratzinger confirmed that consistently advocating for abortion and euthanasia constitutes formal cooperation in grave sin, and that bishops must dialogue with Catholics prominent in public life who do so in order to help them understand the grave evil they are helping to perpetrate and accompany them to a change of heart.  He goes one to say in that letter that, if these dialogues prove to be fruitless, then, out of respect for the Catholic belief of what it means to receive Holy Communion, the bishop must declare that the individual is not be admitted to Communion.  Speaker Pelosi's positive reaction to Cardinal Ladaria's letter, then, raises hope that progress can be made in this most serious matter.
Pelosi's bishop then stressed the importance of abortion — noting that it has killed tens of millions of unborn babies.
"We must never lose sight of this fact: in the last 50 years, in the United States alone, 66,000,000 babies have been murdered in their mothers' wombs.  This is not a matter about which one can use judgment.  It is a fact.  66,000,000 babies murdered in their mothers' wombs.  If we look around us and see what is happening in our society today, we will see that this fact once again demonstrates that violence begets violence.  66,000,000 babies murdered in their mothers' wombs.  The response to a woman in a crisis pregnancy is not violence, but love."
The Supreme Court agreed last month to hold a hearing on a major abortion case that could limit Roe v. Wade and protect babies from late-term abortions.  The U.S. Supreme Court agreed to hear Dobbs v. Jackson Women's Health Organization, a law that bans killing babies in abortions after 15 weeks.
The 2018 Mississippi law prohibits abortions after 15 weeks except when there are risks to the life or physical health of the mother, or fatal fetal anomalies. Based on state health records, about 200 unborn babies between 15 and 20 weeks are aborted every year in Mississippi and the law would save their lives.
Follow LifeNews on the MeWe social media network for the latest pro-life news free from Facebook's censorship!
Mississippi Attorney General Lynn Fitch asked the high court to consider the 15-week abortion ban last year.
"The petition asks the court to clarify its jurisprudence on abortion to allow states like ours to enact laws that further their legitimate interests in protecting maternal health, safeguarding unborn babies, and promoting respect for innocent and vulnerable life," Fitch said in a statement in June. "We are hopeful that the court will accept our case and allow Mississippi to defend innocent life as the legislature and the people of this great state intend."
Mississippi's law highlights a conflict between the Supreme Court's ruling in Roe v. Wade and the court's repeated affirmation in subsequent cases that states have a legitimate interest in limiting abortion and protecting "vulnerable and innocent life" from the moment of conception.
"Every human life is valuable, and Mississippi's law is a commonsense step toward protecting unborn children and their mothers from the harms of late-term abortion," said Alliance Defending Freedom Senior Counsel Denise Harle. "The law protects the life of a baby who can already move around and kick in her mom's womb—a child who has a heartbeat, can taste what her mom eats, and can experience pain. And the law also protects women, since late-term abortions grow increasingly dangerous to the mother's health. Women and their children both deserve real health care; that's why we're glad the Supreme Court has decided to take up this matter."
The state argues that "viability" is an arbitrary standard for determining when a state's interests are sufficient to regulate, and that the Supreme Court has already recognized that the state has a legitimate interest in protecting the unborn infant and the health of the mother from the very beginning of pregnancy.
Polls consistently find strong public support for abortion
restrictions after the first trimester. Gallup has been asking about the legality of abortions by trimester for decades. Its polls have found steady, strong opposition to abortions in the second and third trimesters.
Additionally, a 2019 Hill-HarrisX poll found that 55 percent of voters said they do not think laws banning abortions after six weeks – when an unborn baby's heartbeat is detectable – are too restrictive.
In a separate case, Mississippi also is fighting in court to defend its heartbeat law, which would protect almost all unborn babies from abortions in the state.
The Supreme Court took away the states' ability to protect unborn babies from abortion, and instead allowed abortion on demand through all nine months of pregnancy. Roe made the United States one of only seven countries in the world that allows elective abortions after 20 weeks.
There is more hope that the Supreme Court may consider overturning Roe, especially now that Justice Amy Coney Barrett has been confirmed.