Pro-life actress Patricia Heaton recently tweeted out support for a group of pro-life Democrats, who were profiled in an article in Politico.
Heaton, the star of "The Middle" on ABC, tweeted, "This is a terrific article about the struggles of our pro-life Democrat brothers and sisters who face an uphill battle with the party that worships at the altar of Planned Parenthood. Pray for them."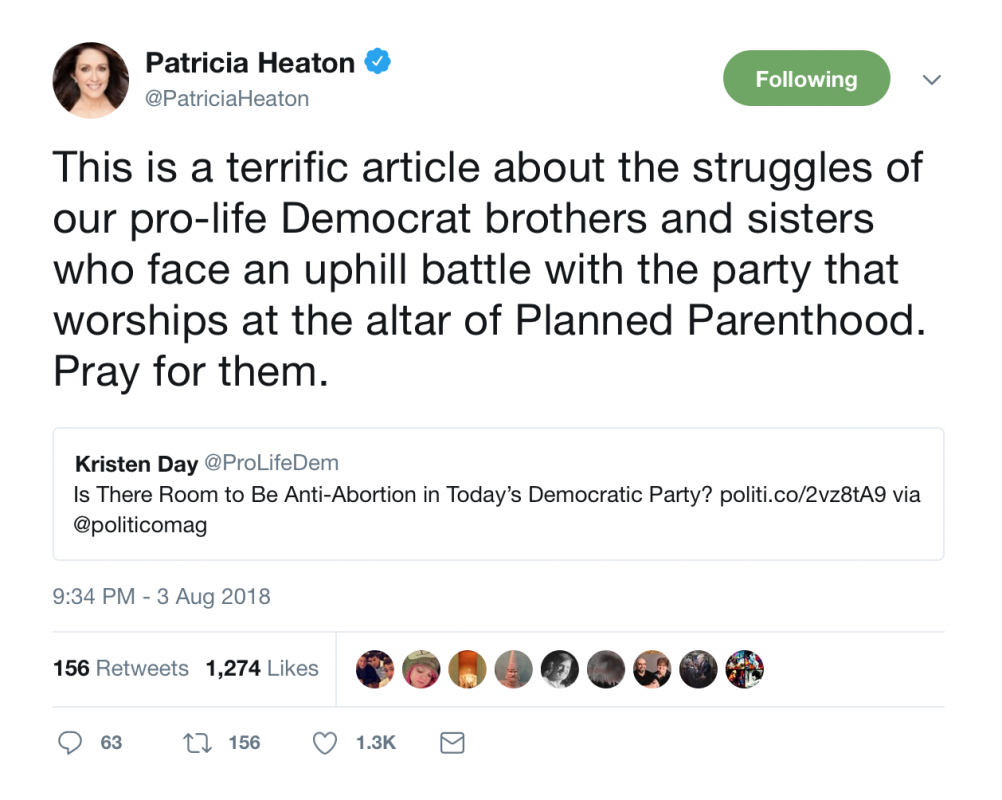 The article by Jennifer Haberkorn describes the group Democrats for Life, a group whose numbers have always been small but have even grown smaller in recent years. The article notes that "many Democratic lawmakers once took Bill Clinton's lead in advocating that abortion should be 'safe, legal and rare,' or toed the line between keeping abortion legal but advocating limits on the procedure, even if those limits reduced access. Over time, many of those Democrats lost their seats—several in the 2010 Tea Party wave. Others, such as Representatives Richard Neal of Massachusetts and Marcy Kaptur of Ohio, have moved to the left on the issue."
REACH PRO-LIFE PEOPLE WORLDWIDE! Advertise with LifeNews to reach hundreds of thousands of pro-life readers every week. Contact us today.
The leaders of Democrats for Life "won't reveal the group's membership numbers, but in a nod to their scarcity, members jokingly refer to themselves as political 'unicorns.'"
Politico interviews Michael Wear, a Democrats for Life board member who led faith-based outreach for President Barack Obama. Wear argues the Democrats' abortion position in their 2016 platform cost them majorities in the election, and that Democrats "should widen their tent if they expect to take the House or Senate this year."
Wear: "If you'd ask the average Democrat, the average pro-choice Democrat, 'Would you rather have a party in control of Congress and in control of the White House but not have federal funding of abortion as part of their policy ambitions—would you prefer that to what we have now? I think the answer is pretty clear."
LifeNews.com Note: Mark Judge writes for the Media Research Center, a non profit research and education foundation dedicated to studying and analyzing the bias in the mainstream media.