(LiveActionNews) — A beautiful video of a baby in utero is rapidly being shared across social media. The ultrasound shows the 11-week, 4-day-old preborn child bouncing around in the womb.  This child is still in the first trimester, the gestational age during which most abortions take place.
Monica Barba posted the video, saying, "For everyone who is wondering what can be seen on an ultrasound of a 1st trimester baby. Enjoy!" She says the child belongs to a woman who came into the pregnancy resource center and chose life. Barba describes the child as having a lot of energy and being full of life, and that another ultrasound later revealed he is a boy.

Since July 21, the video has been shared more than 8,000 times and has been viewed over 500,000 times.
Those who have watched the video have called it "fantastic," "beautiful," and "amazing." It's proof beyond the shadow of a doubt that life inside the womb is indeed a life. Would a blob of tissue be able to bounce, jump, or kick just like a child?
At 11 weeks gestation, preborn babies are rapidly growing. Not only do they have beating hearts, but hands and feet, fingers and toes, tongues and palates, and hair follicles forming on their heads. Babies at this stage can do somersaults, forward rolls, stretches— and as this baby shows, jumps.
Keep up with the latest pro-life news and information on Twitter. Follow @LifeNewsHQ
It's videos like this that will educate those who still believe the preborn are not human beings.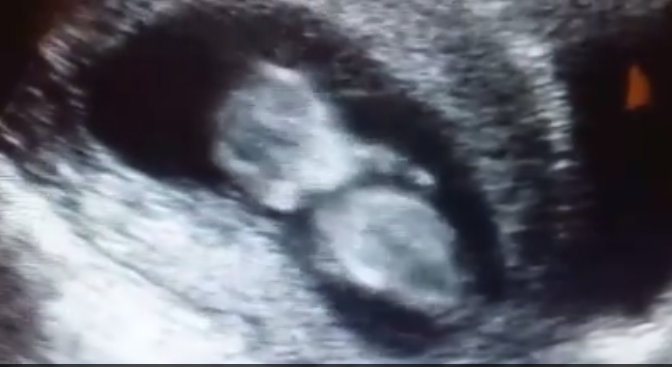 LifeNews Note: Nancy is a work at home mom who writes about parenting, special needs children, and the right to life. She is the lucky mother of two spirited little girls, one who has cystic fibrosis, and she spends any free moment she can find fundraising for a cure for CF. You can read her personal blog at www.ChronicAdmissions.com. Reprinted from Live Action News.