Oklahoma abortionist Naresh G. Patel appeared in an Oklahoma District Court on June 9, 2015, and waived his right to a preliminary hearing in a criminal case prompted by a complaint made by Operation Rescue. He has been bound over for trial.
"We want Patel to have his day in court. As in the Kermit Gosnell trial, we believe shocking details of Patel's criminal abortion operation will come out and give us all another window into the truth about the abuses that really go on inside American abortion clinics," said Operation Rescue President Troy Newman. "Abortionists like Patel and Gosnell are not anomalous. I have yet to find an abortion business that complies with every law."
Patel was arrested and jailed on December 9, 2014, when police raided Patel's Outpatient Services for Women abortion clinic and his home. Both locations were searched during the raids.
Patel's Oklahoma City abortion clinic has been closed ever since. In addition Patel signed a formal agreement with the Oklahoma Medical Board promising not to practice medicine.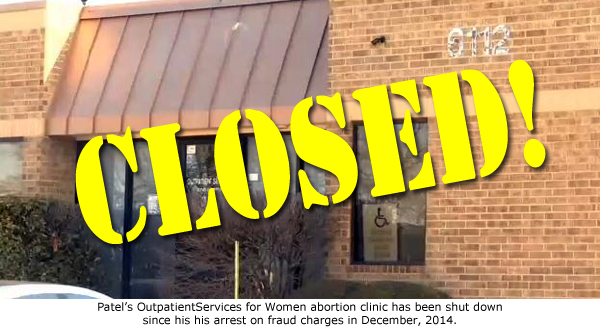 Patel was charged with three counts of fraud after three female undercover agents went to Patel's abortion facility and were told by Patel they were pregnant when they were not. Patel then sold abortion pills to them for $645.
Click here to sign up for daily pro-life news alerts from LifeNews.com
Later, Oklahoma Attorney General Scott Pruitt added a felony charge of racketeering that carried a minimum of 10 years in prison.
On June 9, that charge was changed to Conspiracy to Commit a Felony, which carries the still hefty penalty of up to 10 years in prison and a $5,000 fine. The fraud charges carry penalties of three years in jail and a maximum fine of $15,000.
Operation Rescue had filed complaints with the Attorney General's Office and the Oklahoma Medical Board against Patel in the spring of 2014 after discovering evidence of abortion abuses in trash from his office supplied by a confidential informant. Cooperation between those two agencies led to Patel's arrest.
"Patel has managed to escape justice before, and this time, he must be held accountable for his crimes," said Newman. "His greedy exploitation of vulnerable women must come to an end. If anyone belongs behind bars, it is Naresh Patel."
In 1993, Patel was charged with one count of "forcible oral sodomy" and one count of sexual battery after a patient alleged that he had sexually assaulted her on an examination table prior to an abortion. She then recorded two phone conversations with him in which she alleged that he asked if she was angry about the assault and apologized for it.
Three victims came forward and told of their horrific encounters with Patel, but somehow the jury failed to convict him.
Patel was also previously disciplined by the Oklahoma Medical Board for Unprofessional Conduct for "failing to maintain dispensing records for dangerous drugs and keep complete and accurate records of purchase and dispensing of controlled drugs" and for injuring a woman during a botched abortion.
In 1993, Patel admitted that he dumped the remains of nearly 60 babies that had been aborted at his clinic in a field near Shawnee, Oklahoma, and had attempted to burn them but only the plastic bags around the remains caught on fire. The bodies were discovered by two passers-by. Patel's excuse that he could not find a service to take away the remains lacked credibility. Because at that time there were no laws in Oklahoma regarding the disposal of aborted baby remains, Patel was never charged.
Patel was also recently sued for sexual harassment after an employee claimed that he repeatedly asked her for sexual favors. She alleges he forced her to conduct grisly tasks at his abortion facility after she refused her advances and that she quit after he attempted to rape her at his home.
No trial date in Patel's fraud case has yet been set. A pretrial conference is scheduled for July 8, 2015.
Operation Rescue plans to attend Patel's trial, when it happens, and report daily from the courtroom.
LifeNews.com Note: Cheryl Sullenger is a leader of Operation Rescue.