Senate Democrats today continued to block a bill to help human trafficking victims because the measure won't pay for their abortions.
The legislation passed through the Senate Judiciary Committee without any problems but, now that it's slated for consideration on the floor of the U.S. Senate, pro-abortion activists are raising a stink about how funds for restitution for human trafficking victims won't pay for abortions. The objection is offensive to victims of human trafficking and millions of girls and young women around the world who are victimized by it, putting abortion ahead of meeting their needs.
Senate Majority Whip John Cornyn, a pro-life Republican, is the lead sponsor of the measure to help human trafficking victims and aides to pro-abortion Democrats apparently missed the fact, during the committee hearing, that Cornyn crafted the bill in a way to help women as opposed to making Americans pay for abortions.
This week, Senate Democrats falsely claimed Republicans snuck in the language in the bill to prevent abortion funding. Challenging them on their assertion Senate Republican Leader Mitch McConnell offers Democrats a chance to vote on the abortion funding provision if they were that opposed to keeping the provision in the bill. Senate Democrat Leader Harry Reid objected.
"It's unconscionable that Democrats would put politics above such important legislation. The politics have to stop," Sen. John Thune said in response.
Leading pro-life groups are taking Democrats to task for putting abortion funding ahead of sex trafficking victims.
"The simple truth is Republicans moved to include language from the "Hyde Amendment" to ensure taxpayers were not funding abortion as a part of this great reform bill. The language has been a part of similar legislation for decades," said Brian Burch of Catholic Vote. "But Democrats refuse to put aside their zeal for abortion. And they are now holding victims of sex trafficking hostage unless they get their way!"
Click here to sign up for daily pro-life news alerts from LifeNews.com
"These shameless politicians parrot the line that abortion should be between "a woman and her doctor." But even that is a lie. They want you involved too. They want you to pay for the abortion," he said. "Pro-abortion Senators have never stopped their outrageous campaign to eliminate the Hyde Amendment, despite the fact that Americans overwhelmingly do not support taxpayer funding for abortion. They see this fight as a wedge to eventually legalize taxpayer-funded abortion across America. Republicans must be told to hold firm and not to budge. Democrats are putting vulnerable women and children at risk."
The National Right to Life Committee informed members of the Senate today that the pro-life provisions stopping abortion funding are necessary, or taxpayer funds meant to help sex trafficking victims would instead pay for abortions. From its letter that LifeNews.com received:
The Attorney General will award grants from the Fund to state and local governments to assist law enforcement and "qualified victims' services organizations" in collaborating to "rescue and restore the lives of victims," as well as prosecuting perpetrators of trafficking. It is not disputed that the services are defined broadly enough to cover elective abortion for minor girls, including those who are employed in coerced labor, in the absence of language to prevent this. For instance, the bill provides for the delivering of child human trafficking services through coordination with "nongovernmental organizations and shelter service providers with substantial experience in delivering wrap-around services to victims of child human trafficking."

The committee-reported bill raises no concern because it also applies the Hyde Amendment to the new fund, thereby ensuring that the new fund will not pay for abortions…. It is prudent and necessary for Congress to include such abortion-related language when it creates a new program that will fund health services.
This isn't the first time Democrats have put abortion ahead of helping human trafficking victims. The Obama Administration put abortion ahead of human trafficking twice — by denying a grant to the Catholic bishops to help victims because they wouldn't promote abortion and by refusing to investigate how the Planned Parenthood abortion business covered up potential cases of sex trafficking.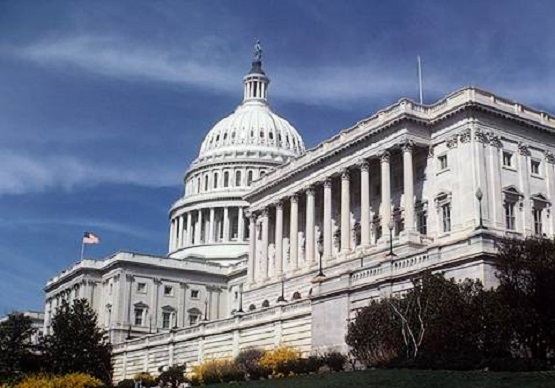 The U.S. Conference of Catholic Bishops had previously received a five-year $19 million grant to help victims of sex trafficking during the administration of pro-life President George W. Bush. Sensitive to how women are exploited in the sex industry, the Catholic bishops prohibit any subcontractors from using the funds to pay for or promote abortions. Instead, the Catholic bishops provide comprehensive case management services to survivors including medical and mental health services.
While the Obama administration extended the contract briefly, the bishops were notified that it would not be renewed. Instead, Obama officials awarded the grant to three other groups (Tapestri of Atlanta, Heartland Human Care Services of Chicago and the U.S. Committee for Refugees and Immigrants of Washington) — even though the bishops have helped more than 2,700 victims with the funding.
The House Oversight and Government Reform Committee held the hearing on the administration's decision.
During the hearing, committee chairman Rep. Darrell Issa, a California Republican, said the decision violated the Obama administration's "pledge to be the most transparent in history."
"Unfortunately, today, we are presented with an example of how that goal is not being met and an opportunity to understand how the federal grant-making process has been politicized," he said.
"The Committee on Oversight and Government Reform has begun an investigation into the process used by the Department of Health and Human Services Office of Refugee Resettlement to award grants that fund many types of care and services," he told the hearing. "That investigation has uncovered many disturbing facts about the grant awards process, including: the most experienced and top rated national applicant was not selected, and lower-ranked organizations were somehow funded. The process was delayed for months while the agency struggled to find ways to inject new criteria into the process, and—of great concern—the judgment of experienced, career-level professionals was discarded when political appointees chose to overrule transparent decision-making."
"These actions appear to constitute an abuse of discretion and undermine the integrity of the process, while potentially violating the spirit, if not the letter, of federal laws and regulations that prohibit discrimination based on religious beliefs," Issa said.