For the second time in two years, pro-abortion West Virginia Gov. Earl Ray Tomblin has vetoed a bill to ban abortions after 20 weeks of pregnancy on unborn babies who studies show can feel intense pain.
More than 18,000 'very late term' abortions are performed every year on perfectly healthy unborn babies in America.
Tomblin today vetoed House Bill 2568, citing constitutional concerns, even though abortion advocates haven't legally challenged similar bans most other states have approved.

"As reflected in my voting record during my time in the Legislature, I believe there is no greater gift of love than the gift of life. As governor, I must take into consideration a number of factors when reviewing legislation, including its constitutionality. At the start of the regular session, I urged members of the Legislature to consider a compromise that would help us establish legislation that would pass constitutional muster. Having received a substantially similar bill to the one vetoed last year on constitutional grounds, I must veto House Bill 2568."
They veto was met with outcries from pro-life groups.
"In vetoing of the Pain-Capable Unborn Child Protection Act, Governor Tomblin has abandoned West Virginia's unborn children," said National Right to Life President Carol Tobias. "Governor Tomblin's veto plays politics with the lives of unborn children. He is certainly not a pro-life governor and should no longer claim to be."
"Governor Tomblin cannot claim to be pro-life and then veto a bill that seeks to protect unborn children who can feel pain from abortions," added Karen Cross, National Right to Life political director."Unborn children who recoil from painful stimuli and who must routinely be given anesthesia when operated on will still be painfully killed in West Virginia because of the callousness demonstrated by Governor Tomblin."
By a vote of 29-5, the West Virginia state Senate gave final approval to HB 2568, the Pain-Capable Unborn Child Protection Act – a bill that protects unborn children from violent abortions after the point at which they are capable of feeling pain. The state House of Delegates passed the bill 88-12 on February 11, which included the support of two-thirds of the House Democrats.
ACTION: Complain to Governor Tomblin by going here.
Those large margins make it clear that an attempt to override the veto may be successful.
Last summer, the West Virginia legislature passed a 20-week abortion ban on abortion by overwhelming bipartisan margins.
After its passage, the President of West Virginians For Life (WVFL), Wanda Franz, said, "The Pain-Capable Unborn Child Protection Act will protect West Virginia's unborn babies, who can feel pain, and asserts a compelling state interest in protecting the unborn child from pain. Scientific research demonstrates that unborn babies can feel pain beginning by at least 20 weeks after conception. It is important that West Virginia has asserted its legitimate concern for the well-being of these innocent babies by protecting them from pain."
However, West Virginia's "pro-life" governor vetoed the legislation because he claimed it was unconstitutional. This shocked most pro-life West Virginians because during Gov. Tomblin's gubernatorial campaign he said he was pro-life.
"West Virginia has taken an important step in protecting its most vulnerable members of the human family," said Mary Spaulding Balch, J.D., National Right to Life director of state legislation. "Now West Virginians must rise up and tell the governor 'No more. No longer will our state tolerate the brutal and painful killing of unborn children.' It is a travesty for Governor Tomblin to threaten to veto legislation that embodies common sense and basic decency."
"Pain-capable unborn children should be protected from the violent act of a dismemberment abortion, or whatever twisted method the abortion industry has cooked up this week," Balch added. "In our upside-down society, most animals have more rights than unborn members of the human family. We are thankful the West Virginia legislature has recognized their solemn duty in protecting the lives of the most vulnerable."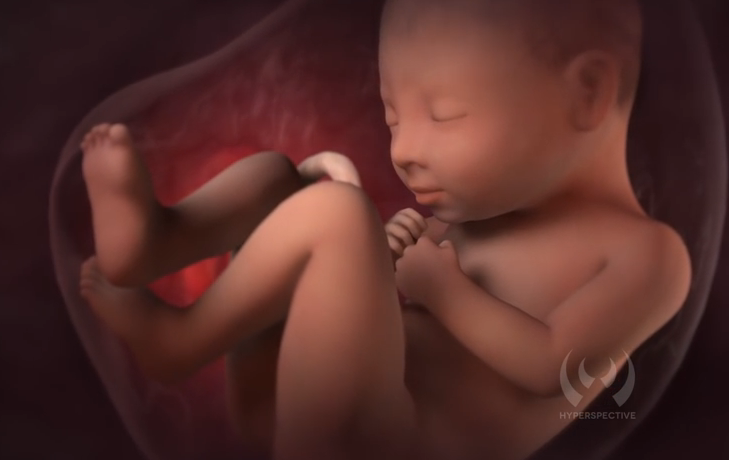 Across the country, eight states have the Pain-Capable Unborn Child Protection Act in effect: Nebraska, Kansas, Oklahoma, Alabama, Louisiana, Arkansas, North Dakota, and Texas.
A national poll by The Polling Company found that, after being informed that there is scientific evidence that unborn children are capable of feeling pain at least by 20 weeks, 64% would support a law banning abortion after 20 weeks, unless the mother's life was in danger.   Only 30% said they would oppose such a law.
Click here to sign up for daily pro-life news alerts from LifeNews.com
A November 2014 poll from Quinnipiac found that 60 percent of Americans support legislation limiting abortions after 20 weeks, including 56 percent of Independents and 46 percent of Democrats.
During a Congressional hearing on the federal bill, former abortion practitioner Anthony Levatino told members of the committee the gruesome details of his former abortion practice and how he became pro-life following the tragic automobile accident of his child.
Another bombshell dropped during the hearing came from Dr. Maureen Condic, who is Associate Professor of Neurobiology and Adjunct Professor of Pediatrics at the University of Utah School of Medicine. She testified that the unborn child is capable of reacting to pain as early as 8-10 weeks. This is when most abortions in America take place.
The bill relies on the science of fetal pain to establish a Constitutional reason for Congress to ban abortions late in pregnancy. The science behind the concept of fetal pain is fully established and Dr. Steven Zielinski, an internal medicine physician from Oregon, is one of the leading researchers into it. He first published reports in the 1980s to validate research showing evidence for it.
He has testified before Congress that an unborn child could feel pain at "eight-and-a-half weeks and possibly earlier" and that a baby before birth "under the right circumstances, is capable of crying."
He and his colleagues Dr. Vincent J. Collins and Thomas J. Marzen  were the top researchers to point to fetal pain decades ago. Collins, before his death, was Professor of Anesthesiology at Northwestern University and the University of Illinois and author of Principles of Anesthesiology, one of the leading medical texts on the control of pain.
"The functioning neurological structures necessary to suffer pain are developed early in a child's development in the womb," they wrote.
"Functioning neurological structures necessary for pain sensation are in place as early as 8 weeks, but certainly by 13 1/2 weeks of gestation. Sensory nerves, including nociceptors, reach the skin of the fetus before the 9th week of gestation. The first detectable brain activity occurs in the thalamus between the 8th and 10th weeks. The movement of electrical impulses through the neural fibers and spinal column takes place between 8 and 9 weeks gestation. By 13 1/2 weeks, the entire sensory nervous system functions as a whole in all parts of the body," they continued.
With Zielinski and his colleagues the first to provide the scientific basis for the concept of fetal pain, Dr. Kanwaljeet Anand has provided further research to substantiate their work.
One leading expert in the field of fetal pain, Dr. Kanwaljeet S. Anand at the University of Tennessee, stated in his expert report commissioned by the U.S. Department of Justice, "It is my opinion that the human fetus possesses the ability to experience pain from 20 weeks of gestation, if not earlier, and the pain perceived by a fetus is possibly more intense than that perceived by term newborns or older children."
"The neural pathways are present for pain to be experienced quite early by unborn babies," explains Steven Calvin, M.D., perinatologist, chair of the Program in Human Rights Medicine, University of Minnesota, where he teaches obstetrics.
Dr. Colleen A. Malloy, Assistant Professor, Division of Neonatology at Northwestern University in her testimony before the House Judiciary Committee in May 2012 said, "[w]hen we speak of infants at 22 weeks LMP [Note: this is 20 weeks post fertilization], for example, we no longer have to rely solely on inferences or ultrasound imagery, because such premature patients are kicking, moving, reacting, and developing right before our eyes in the Neonatal Intensive Care Unit."
"In today's medical arena, we resuscitate patients at this age and are able to witness their ex-utero growth and development. Medical advancement and technology have enabled us to improve our ability to care for these infants…In fact, standard of care for neonatal intensive care units requires attention to and treatment of neonatal pain," Dr. Malloy testified. She continued, "[t]hus, the difference between fetal and neonatal pain is simply the locale in which the pain occurs. The receiver's experience of the pain is the same. I could never imagine subjecting my tiny patients to horrific procedures such as those that involve limb detachment or cardiac injection."