A handful of "pro-life" lawmakers have sabotaged a vote House Republican leaders planned for today to ban abortions after 20 weeks of pregnancy based on scientific evidence showing unborn babies feel pain in abortions.
As LifeNews reported yesterday, Rep. Renee Ellmers of North Carolina along with Reps. Charlie Dent of Pennsylvania and Jackie Walorski of Indiana — each of whom have pro-life voting records — objected to a vote on the bill on the grounds that the language in the bill did not do enough to allow women who have been victimized by rape to have abortions.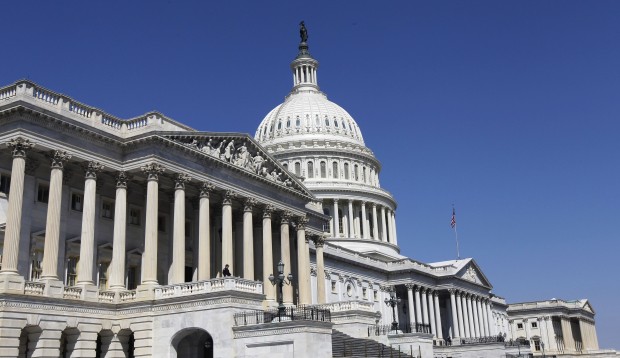 Together, they reportedly got enough lawmakers to cast doubts on the outcome of the bill that House Republican leaders were forced to pull the measure from a debate and vote on the House floor today.
"I prefer that we avoid these very contentious social issues," Dent told National Journal. "Week one, we had a speaker election that did not go as well as a lot of us would have liked. Week two, we got into a big fight over deporting children, something that a lot of us didn't want to have a discussion about. Week three, we are now talking about rape and incest and reportable rapes and incest for minors. … I just can't wait for week four."
House Majority Leader Kevin McCarthy met with Representative Marsha Blackburn (R., Tenn.) and other Republican women to try to mollify the concerns but ultimately realized Republicans would not have the votes for the bill.
Despite being forced to pull the bill to rework it and reassemble support for the measure, Congressman Chris Smith said on the House floor today that the Pain Capable Unborn Child Protection Act will indeed eventually come to the House floor.
North Carolina Right to Life president Barbara Holt is upset at the actions of Ellmers — someone she had normally considered a faithful pro-life member of Congress.
"At the same time that Ms. Ellmers was stating on her Facebook page and in the news media that she would vote for the bill on Jan. 22, she worked behind the scenes to make sure she would not have to vote on the bill," she told LifeNews.com. "Pro-lifers have Renee Ellmers to blame for the vote not taking place to protecting thousands of pain-capable unborn children. She has betrayed the pro-life people of this state and country. North Carolina Right to Life and pro-lifers will not forget what Renee Ellmers has done."
This afternoon, pro-life advocates will lead a protest at Ellmers' office.
The House will vote instead Thursday on a bill prohibiting federal funding for abortions — a vote designed to show support for the pro-life movement after House Republicans had pleased pro-life advocates by scheduling a vote on the fetal-pain-based abortion ban. The House will consider H.R. 7, the No Taxpayer Funding For Abortion Act.
Leading pro-life advocates and conservative commentators like Mollie Hemingway of The Federalist, were furious at the ostensibly pro-life lawmakers who are responsible for cancelling the vote.
Two of the representatives who caused the biggest stink about the bill were Rep. Renee Ellmers of North Carolina and Jackie Walorski of Indiana. Last week, Ellmers said she didn't think it was a good idea to vote on the legislation so early in the session (an argument that makes no sense, but let's put that aside). Yesterday the women pulled their sponsorship of the bill over what they said were concerns over the rape reporting requirement. And yet here are both women speaking in favor of this exact same legislation two years ago:

Here's Renee Ellmers in 2013 speaking in support of bill identical to one she just helped scuttle https://t.co/hMlY9ZMIwX

— John McCormack (@McCormackJohn) January 22, 2015

Here's Jackie Walorski, who withdrew cosponsorship of bill with Ellmers, speaking in support of that bill in 2013 https://t.co/ZMbNRSS7sh — John McCormack (@McCormackJohn) January 22, 2015
These women are claiming to all of a sudden be concerned about the reporting requirement — the requirement that has nearly two-to-one support among voters and the one they had no problem with just a couple of years ago. This reporting requirement would keep late-term abortion doctors like Kermit Gosnell or Leroy Carhart from simply checking a box before going ahead with the procedure. Besides, it's one thing to seek an exception to abortion laws for victims of rape, and entirely another to think that exception must be extended until the baby exits the birth canal. This bill wouldn't have a reporting requirement for abortions in the first five months of pregnancy.
In fact, even Democrats who think late-term abortion should be legal with no restrictions didn't make an issue of the reporting requirement in the last two elections. Last year, support for late-term abortion hurt Democratic candidates. But now Ellmers created a controversy where non existed, hereby handing Democrats a way to fight a broadly popular bill.
This sabotage of the pro-life movement over what may have been a power struggle happens at a time when many pro-life activists have grown weary of being used by the GOP for electoral victory only to be forgotten weeks later when it's time to vote.
Other pro-life advocates took to twitter to air their frustrations with these members of Congress responsible for delaying the vote.
Hey @RepReneeEllmers – are you going to the #Marchforlife? You will see lots of #prolife Millennials! #theyfeelpain

— Kristan Hawkins (@KristanHawkins) January 22, 2015
The main difference between Wendy Davis and Renee Ellmers is that Ellmers succeeded defending late term abortion where Wendy Davis failed. — Leon Wolf (@LeonHWolf) January 22, 2015
The delaying of a vote on the Pain Capable Unborn Child Protection Act is a huge disappointment to the pro-life movement at a time when Americans are increasingly pro-life and strongly supportive of banning late-term abortions.
A national poll by The Polling Company found that, after being informed that there is scientific evidence that unborn children are capable of feeling pain at least by 20 weeks, 64% would support a law banning abortion after 20 weeks, unless the mother's life was in danger.   Only 30% said they would oppose such a law.
A November 2014 poll from Quinnipiac found that 60 percent of Americans support legislation limiting abortions after 20 weeks, including 56 percent of Independents and 46 percent of Democrats.