The Virginia Department of Health, consisting primarily of new appointees of pro-abortion Gov. Terry McAuliffe, voted 13-2 today to amend licensing rules for abortion facilities to make it easier for them to stay in business even though they cannot meet basic safety requirements currently outlined in a 2012 law.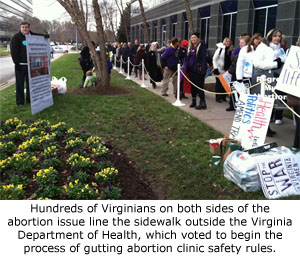 Earlier today, hundreds of people attempting to attend the hearing stretched in a line down the block and later packed the hearing room to capacity. An overflow room with video of the hearing was also jammed with supporters from both sides of the abortion issue.
Sixteen people spoke in favor of relaxing the regulations and 23 spoke against the action. Those supporting leaving the law as is included Casey Mattox, Senior Counsel for Alliance Defending Freedom.
In his tweets from the hearing, Mattox noted, "Young African American Norfolk man points out both Dred Scott and Roe are based on the same lie. Best of the day in my opinion." Mattox also noted that while the pro-abortion speakers tried to claim that most of those against changing the law were men, ignoring the fact that several of the speakers on the pro-life side were women."
Now that the Health Board has agreed that changes can be made, now begins the long process of actually amending the regulations.
Click here to sign up for daily pro-life news alerts from LifeNews.com
"We will get more chances to provide input into the process of changing the safety regulations as the things moves forward. This isn't the end," said Newman. "Wom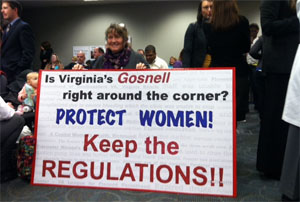 en deserve protection from shoddy abortion facilities that cannot comply with medical safety standards and we will continue to remind the Board that gutting the safety standards won't help women, but will only continue to place their lives at risk."
LifeNews.com Note: Cheryl Sullenger is a leader of Operation Rescue, a pro-life that monitors abortion practitioners and exposes their illegal and unethical practices.