The particular objects of scorn for this leftist, anti-male group?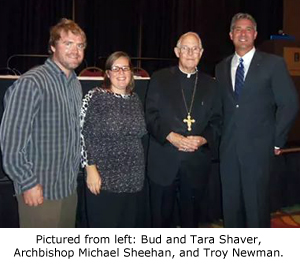 None other than Operation Rescue's Troy Newman, who was the featured speaker for the event, and honored guest New Mexico Archbishop Michael Sheehan.
The rowdy group of feminists broke into the hotel vestibule wielding signs and a bullhorn and chanting "Abortion on demand" and "Operation Rescue is a fascist organization!" as banquet-goers looked on from the lobby.
At one point, briefly seen in a cell-phone video of the incident, Archbishop Sheehan approached the protesters and blessed them.
The obviously misguided and ill-informed abortion supporters simply ignored the realty of exactly who they were protesting.
"The irony is that this radical pro-abortion group, StopPatriarchy.org, is protesting an organization, Project Defending Life, which is actually helping women who are mostly abandoned by the men in their lives," said Fr. Stephen Imbarrato, Director of Project Defending Life.

It seemed that Stop Patriarchy should have appreciated that fact. But instead, their behavior showed that this pro-abortion group cares less for the plight of women than they do about promoting abortion, no matter who it hurts.
"It is an honor to join with Project Defending Life and partner with them in their work to stop abortion in the Late-term Abortion Capital of America," said Newman. "The fact that PDL and activists like Bud and Tara Shaver are protested by the abortion cartel is a testimony to their effectiveness and the impact they are having in New Mexico."
Newman's encouraging message that victory over abortion is achievable through peaceful, legal activism was enthusiastically received by the pro-life supporters.
Newman and his associate, Cheryl Sullenger, have written an exciting new book, Abortion Free, which explains how to build a pro-life America, one community at a time. It is set for release on October 7, 2014, but is available now for pre-order at Amazon.com.