When "Bethany's" pregnancy test came back positive, her first thought was to terminate the pregnancy. Just 22 years old and in her senior year of college, Bethany had already mapped out her future. She would earn her degree and then go to grad school to pursue a master's degree. Her boyfriend "David" was also in his senior year of college, and he was being wooed by some of the nation's most prestigious tech firms. Bethany and David were each on a pathway to success, and neither one of them saw a baby fitting into their plans.
So when Bethany discovered she was pregnant, the young couple agreed that abortion seemed like the only sensible option.
Going to the one place that felt private and confidential, Bethany began searching for abortion-related terms on the Internet. But the results of her online search were not what she expected.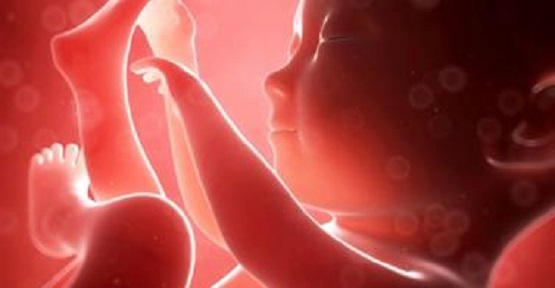 Instead of contacting an abortion clinic, Bethany reached out to a life-affirming pregnancy center in her area. Tentatively, Bethany called the center and a friendly voice greeted her. While Bethany was still determined to get an abortion, the compassionate voice on the other end of the line drew her in and gave her hope and encouragement. So despite her reservations, Bethany agreed to go to the center for an exam and a free ultrasound, and she brought David along for moral support.
As she spoke with the clinic staff during her appointment the next day, Bethany poured out her heart, confessing that although she wanted to be a mother "someday," now was not the ideal time for her or David. They were "too young" and their "futures were so bright." Listening intently to her concerns, the nurse encouraged Bethany to consider all of her options. She gave Bethany information about the center's prenatal and parenting classes. She explained the abortion procedure in detail, as well as the risks of potential emotional and physical complications that may accompany it. Finally, she prayed with Bethany and asked God to give this young woman wisdom and peace in her decision.
Bethany was then taken to the ultrasound room where David joined her as she received her free sonogram. When the image of their five-month-old baby appeared on the monitor, Bethany and David began to weep. "I didn't expect him to be so big," David said. While the nurse rolled the probe over Bethany's belly, the couple clutched each other's hands and sighed. They were in awe as they watched their perfectly formed baby wriggle and squirm on the monitor, and their hearts slowly softened. By the time they said good-bye to the nurse, Bethany and David were scheduling prenatal classes and discussing baby names.
Click here to sign up for daily pro-life news alerts from LifeNews.com
An incredible transformation took place in the life-affirming pregnancy center that day, as this couple gradually went from feeling scared and helpless to being a little excited about welcoming a baby into their lives. Although they were still uncertain about how all the pieces would fall into place, Bethany and David left the center committed to choosing life for their baby.
Here at Online for Life, we know Bethany and David's journey would most likely have ended tragically if they'd walked through the doors of an abortion clinic. Fortunately, in part as a result of Online for Life's online marketing outreach efforts on behalf of its participating life-affirming centers, Bethany and David reached out to and made an appointment with a local life-affirming pregnancy center in their area instead.
And when they arrived for their appointment, a kind and compassionate staff took the time to educate this young couple about life and began equipping them for parenthood.
Since its founding, Online for Life's unique combination of technology and grace has helped to verifiably rescue over 1,900 babies from abortion!
To find out more about how Online for Life works to help rescue babies and their families from abortion, please visit OnlineforLife.org