Yesterday, Oklahoma Governor Mary Fallin signed pro-life legislation supported by Operation Rescue that will require abortionists to maintain hospital privileges within 30 miles of their abortion clinics and will direct the Oklahoma Board of Health to establish emergency safety standards for abortion clinics. The legislation is expected to close 3 out of 4 abortion clinics in that state.
Similar legislation has passed through the Louisiana legislature and currently awaits the expected signature of Gov. Bobby Jindal. That new law is expected to close 5 out of 7 Louisiana abortion mills.
Oklah
oma and Louisiana become the 16th and 17th states to enact rules that mandate hospital privileges and/or hospital transfer agreements for abortionists or abortion clinics.
"Operation Rescue has worked with groups like Americans United for Life and others to get this legislation into the statehouses. With the success of the law in Texas, where at least 17 abortion clinics have already closed, we are seeing the hospital privilege requirement spread like wildfire," said Troy Newman, President of Operation Rescue.
Right now, Federal Courts in Alabama and Wisconsin are currently hearing arguments in suits filed by abortion clinics challenging the constitutionality of the laws. These suits are unlikely to prevail since a three-member panel of the Fifth Circuit issued a ruling last year affirming the Constitutionality of the Texas hospital privilege requirements.
Wisconsin
In Wisconsin, U.S. District Judge William Conley heard testimony from abortionist Dennis Christensen of Affiliated Medical Services in Milwaukee, who indicated he had received no definitive answer to any of his request for hospital privileges. This "bewildered" Judge Conley, who ordered Christensen to follow up on his requests and "demand better answers." Judge Conley indicated that he was reluctant to set aside the law and that follow-up might negate the reason for the trial.
Christensen is the same abortionist that once ran the notorious Northern Illinois Women's Center in Rockford, Illinois, that was closed in January 2012, for serious health violations. Christensen was well known for his anti-Christian bias and would often mock the faith – in extremely vile terms – of Christians who witnessed outside his poorly-maintained Gosnell-like abortion facility.
"Shoddy abortionists like Christensen are the ones that these laws are meant to weed out. No hospital administration in its right mind would extend hospital privileges to this man, who operated what can only be described as a dangerous, filthy chop-shop for years," said Newman.
Alabama
In Alabama, abortionists are resorting to the argument that because abortionists have sometimes been the subject of violence in the past, that state's hospital privilege law should not be implemented.
Earlier this week, Operation Rescue exposed Huntsville abortionist Raymond Lopez's criminal history, his incarceration for six months of weekend on domestic issues, and his abortion clinic's dismal history of serious health code violations.
In addition, Operation Rescue worked with CEC for Life and Life Legal Defense Foundation to expose patient injuries and other massive abortion abuses at Birmingham's New Women All Women abortion facility, then worked through the Alabama Department of Public Health and the courts to permanently shutter that abortion facility after the groups documented the fact that owner Diane Derzis and her abortionist, Bruce Elliot Norman, were operating illegally.
Mississippi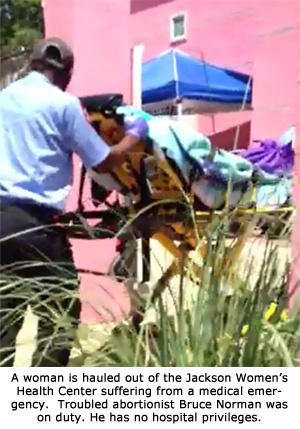 In Mississippi, Derzis and Norman have challenged hospital privilege requirements that threaten to shut down their Jackson Women's Health Organization, the last abortion clinic in that state. All of Derzis' abortionists reside out of state and have been denied privileges due to the extra liabilities that fly-in abortionists pose for hospitals. The Fifth Circuit Court of Appeals is currently considering the case and a decision is expected soon.
Newman helped outline the strategy to use the hospital privilege requirement with local activists in Mississippi. Operation Rescue has also forwarded information about Derzis and Norman's checkered histories as well as documentation of additional abuses to the authorities in that state.
Ohio
In Ohio, a law that requires abortionists to maintain hospital transfer agreements has already shuttered six abortion clinics. Martin Haskell's late-term abortion clinic in Sharonville has been ordered to close by the Ohio Department of Health, but continues to operate while the order is on appeal.
The Attorney General's office filed an opinion on Wednesday that recommends the closure of Capital Care Network, the last remaining abortion clinic in Toledo. The abortion business tried to claim that hospital privileges held in Ann Arbor, Michigan, 50 miles away and across state lines, qualified as "local." A hearing officer will issue his opinion in June then the ODH Interim Director, Lance Himes will make a final decision on the abortion clinic's closure sometime later. He is expected to order that clinic closed as well.
The death of Lakisha Wilson at Preterm, a Cleveland abortion clinic that preys on poor urban women of color, has placed its clinic license in jeopardy as well. An Ohio Department of Health investigation into that abortion tragedy is ongoing.
Texas
Meanwhile, in Texas, the hospital privilege requirement has closed at least 17 abortion clinics, with additional closures expected once the other provisions of the landmark HB2 law goes into effect later this year. Only six abortion clinics are expected to comply with the law. That means that nearly two dozen abortion facilities were once operating under dangerously substandard conditions prior to the passage of this necessary law.
"Abortion has devalued not only the lives of the pre-born, but also has devalued the lives of women. It is appalling that in this day and age, the abortion cartel expects women just to sit down, shut up, and simply tolerate being treated as second-class citizens in third-world-style abortion mills," said Newman.
Kansas
A clinic licensing law that would also require that abortionists maintain local hospital privileges passed in 2011, but has been lying dormant in a Shawnee County court since August 2012. Operation Rescue has initiated a petition to pro-life Gov. Sam Brownback that would ask him to order the State Attorney General's office to immediately take action to defend the law that would close three out of four abortion clinics in that state. (Sign the Petition to Gov. Brownback)
"The fact that so many abortion clinics are shutting down once they are held accountable to minimum safety standards really emphasizes the shoddy state of the abortion cartel, which for decades was allowed to deteriorate without any accountability whatsoever," said Newman. "Now that states are finally trying to clean up the mess, the abortion businesses are crying 'foul.' They have gotten away with exploiting women and cutting corners on their health for far too long. When abortion clinics close, abortion rates drop and lives of babies and their mothers are saved."
LifeNews.com Note: Cheryl Sullenger is a leader of Operation Rescue, a Kansas-based pro-life that monitors abortion practitioners and exposes their illegal and unethical practices. The group is known for serving as a watchdog of Planned Parenthood and other abortion businesses.