Abortion supporter Chelsea Clinton announced today that she's pregnant — not with a fetus or clump of cells but with a "child."
This is the same Chelsea Clinton who lamented last year that her grandmother didn't have access to Planned Parenthood.
At the end of a women's event, Clinton made the announcement along with Hillary Clinton, who was onhand. The announcement came ont he heels of a pro-Obamacare press conference by President Barack Obama.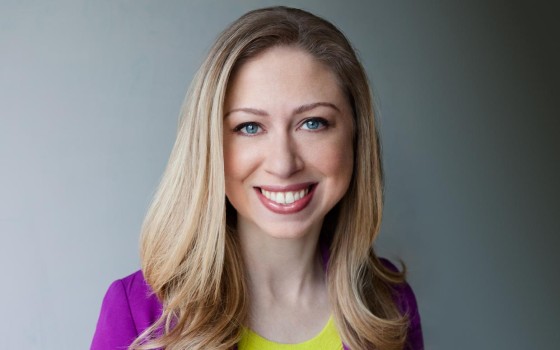 "Marc [Mezvinsky] and I are very excited that we have our first child arriving later this year, and I certainly feel all the better — whether it's a girl or a boy — that she or he will grow up in a world full of so many strong young female leaders, so thank you for inspiring me and thank you for inspiring future generations, including the one that we'll be lucky enough to welcome into our family later this year," Chelsea Clinton said. "I just hope that I will be as good a mom to my child, and hopefully children, as my mom was to me."
"It makes this work even more important," Hillary Clinton said. "Even in the course of my life, I've seen a lot of progress, but I want to see us keep moving, and certainly for future generations as well, so that maybe our grandchild will not have to be worried about some of the things that young women and young men worry about today. So obviously, we are very excited about what's happening in our family, but we're also very excited because of what we're doing that we hope gives confidence and support to so many of you across our country."
Pro-life activists on Twitter marked the announcement with support — and snark.
Chelsea Clinton announces baby. Barack Obama hardest hit.

— Rick Wilson (@TheRickWilson) April 17, 2014
Has Obama counted Chelsea Clinton's baby as the newest Obamacare enrollee yet? I mean, let's maximize this.

— Amanda Carpenter (@amandacarpenter) April 17, 2014
Alert!! @ChelseaClinton is harboring a lifeless clump of cells that she may choose to recognize as a person later!!! #awww

— T-Mex (@SooperMexican) April 17, 2014
Jokes aside, I hope Chelsea Clinton has a complication free pregnancy and a healthy baby.

— RB (@RBPundit) April 17, 2014
Congrats to Chelsea Clinton on her baby news, but I'm betting she's not on Obamacare to have it.

— Kathleen McKinley (@KatMcKinley) April 17, 2014
Congratulations to Chelsea Clinton. Kids are cool.

— Erick Erickson (@EWErickson) April 17, 2014
Waiting on @PPact to congratulate Chelsea Clinton on her "products of conception." When is the "uterine contents" shower? #prolife

— Andrew Bair (@ProLifePolitics) April 17, 2014
Hillary made Chelsea get pregnant to distract people from Benghazi. #Babyghazi

— TBogg (@tbogg) April 17, 2014
How far along is Chelsea? Is it still a clump of cells?

— RB (@RBPundit) April 17, 2014
"Hey Chelsea. Do you think you can get knocked up soon so I can have a toddler to campaign with in 2016? Thanks." – Hillary.

— RB (@RBPundit) April 17, 2014