In response to a Freedom of Information Act request, Operation Rescue has received documents that indicate Douglas Karpen's Texas Ambulatory Surgical Center in Houston, Texas, has not been inspected since 2010, despite supposed investigations last year into allegations of that Karpen killed babies born alive during failed illegal late-term abortions.
Operation Rescue also received a one-page document that indicated a routine licensing inspection was conducted at Karpen's second Houston abortion clinic, Aaron Women's Center, on March 13, 2013. The contents of that report were completely redacted.
The Aaron Women's Center inspection took place two months before Operation Rescue released its report based on evidence provided by four of Karpen's former abortion clinic employees, which demanded an investigation into Karpen's late-term abortion business on May 15, 2013.
The records show that no inspections were ever done on either abortion facility after Operation Rescue published photos that seemed to verify the former abortion workers' allegations that Karpen was intentionally killing babies born alive during abortions done beyond the legal limit by cutting their throats or twisting their heads nearly off their bodies. [View report with photos. WARNING: Graphic.]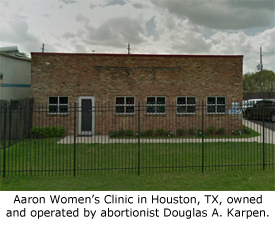 "We were promised a full investigation, but now we learn that no one from the Department of State Health Services bothered to visit Karpen's two abortion clinics. In light of the gravity of the accusations that Karpen was murdering live newborns, it is inexcusable that no inspections were done with that information in mind," said Troy Newman, President of Operation Rescue. "This really represents a failure of the system to properly oversee abortion facilities and investigate serious issues that arise. It is all too reminiscent of the failure of Pennsylvania authorities to look into complaints against Kermit Gosnell's Philadelphia 'House of Horrors.'"
In response to Operation Rescue's report, the Harris County District Attorney's office later conducted a grand jury investigation into the witnesses' allegations, but disbanded in December, 2013, without indicting Karpen on any charge.
However, Operation Rescue maintains that the grand jury was likely steered away from issuing an indictment for political reasons and that the most damaging evidence collected from the former Karpen employees was never presented to the grand jury. That evidence included photos taken by employees on their cell phones depicting large late-term aborted babies with their throats slashed from ear to ear.
It is Operation Rescue's belief that those wounds could not have been inflicted while the babies were still inside the womb and that such gashes serve no purpose if the babies had died prior to delivery.
"It's like the fix was in from the start," said Newman.
The lack of inspections at Karpen's abortion facilities along with a lawsuit filed earlier this year by a seriously injured abortion patient adds to Newman's belief that Karpen may have gotten away with murder.
On March 10, 2014, Melanie Mendoza filed suit in Harris County Court against Karpen after he allegedly tore through her uterus during a 23-week abortion then released her without telling her she had suffered a life-threatening injury. Mendoza's claim echoed allegations made by Deborah Edge, one of Karpen's former employees that came forward to work with Operation Rescue and later gave a recorded interview to Life Dynamics, Inc.
Enjoy this pro-life news article? Please support LifeNews with a donation during our April fundraising campaign!
The deficiency report released by the Texas Department of State Health Services reflected appalling conditions found at Karpen's Texas Ambulatory Surgical Center on North Shepherd Drive during an inspection conducted on November 5, 2010.
Deficiencies included:
• Karpen's registered nurse had no valid CPR certification.
• There was dust build-up in "treatment rooms," on monitoring and emergency equipment, and over a sink in the hallway.
• Two red biohazard boxes stored in a "dirty" utility closet were uncovered and "1/2 full of bloody supplies."
• A mop was sitting in a bucket of "brown colored water."
• Bottles of anti-infection agents were stored on the floor on one "treatment room."
• The clinic had no infection control policies.
During the inspection, Karpen's employees seemed clueless about proper sterilization of instruments. The inspector noted that one Medical Assistant was observed improperly cleaning contaminated instruments "which had visible blood and tissue particles in the crevices" then handling the so-called "clean" instruments with dirty gloves.
The report further stated, "There was a large splatter of blood on the top shelf of the tray. Staff # 54 sprayed the area with a disinfectant solution and proceeded to wipe from the bloody area to the clean area, spreading blood all over the tray."
There was also an indication that contaminated instruments stored in opened, blood-spattered packaging were being used on patients.
"It seems like once such horrific conditions are discovered that the Health Department would want to check periodically to make sure that corrective actions are being maintained, but it appears that since that 2010 inspection, the Health Department has taken a 'hands-off' approach to Karpen's abortion facility," said Newman. "We learned from the Kermit Gosnell case that without regular inspections, conditions at abortion mills can deteriorate rapidly."
The North Shepherd Drive location is where many late-term abortions are done.
Currently, Karpen's abortion clinic staff are telling callers that Karpen is not doing abortions due to his inability to obtain hospital privileges as required by a new Texas law. However, Karpen continues to operate the clinics using hired abortionists, such as Yury Joseph Nosaville, who attended medical school in the old Cold War-era Soviet Union. Nosaville was known by some of Karpen's staff as "Dr. Jab-and-Stab" due to the way he apparently rushed roughly through abortion procedures.
"Women may have a sense that the Karpen clinics are safe, but our information indicates that isn't the case. We warn the pregnant women of Texas to steer clear of these clinics and seek help instead from reputable physicians that offer life-affirming care and support," said Newman.
Read the Texas Ambulatory Surgical Center Inspection Report
View the Aaron Women's Center Inspection Report
Read Operation Rescue's original Special Report on Karpen
LifeNews.com Note: Cheryl Sullenger is a leader of Operation Rescue, a pro-life that monitors abortion practitioners and exposes their illegal and unethical practices.