A large real estate sign as gone up outside the former New Woman All Women abortion clinic in Birmingham, Alabama, ending a two year struggle by owner Diane Derzis to keep the troubled abortion clinic open – often through deceptive and illegal means.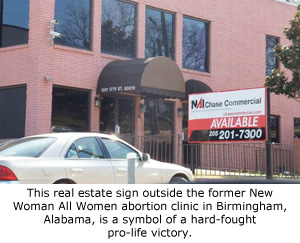 "Placing the abortion clinic property for sale or lease shows that Derzis has finally given up on her attempts to keep the New Woman All Women abortion clinic open. That means that pro-life groups that countered her every move have finally won," said Operation Rescue President Troy Newman. "We pray that Derzis' embattled abortion clinic in Jackson, Mississippi will soon follow suit because it has been proven over and over that she isn't fit to operate a dog kennel, much less a clinic where abortion surgeries are done."
Troubles began for Derzis and her Birmingham clinic on January 21, 2012, when local pro-life activists with CEC for Life photographed two abortion patients being hand-carried out a back door down broken steps to gurneys waiting in a trash-strewn alley. Emergency 911 records obtained by Operation Rescue indicated that the two women suffered drug overdoses caused by ill-trained clinic staff.
Operation Rescue worked with CEC for Life and Life Legal Defense Foundation to file complaints against the clinic and its two abortionists, Ivan Diamond and Bruce Elliot Norman. An inspection prompted by the pro-life groups' complaints uncovered 76 pages of serious health and safety code violations, including a third abortion patient who was hospitalized in intensive care on the same day the two other women were rushed to the Emergency Room.
Ivan Diamond quit working at the clinic the following month, apparently to avoid becoming entangled in disciplinary actions.
The Alabama Department of Public Health (ADPH) issued a closure order in April 2012, ruling that the abortion clinic was a repeat offender that was too dangerous to continue operating after pro-life groups brought public pressure to bear.
Derzis signed the closure agreement with the ADPH promising that she and Norman would have nothing to do with reopening another abortion clinic. However, later that month, one of Derzis' associates attempted to relicense the clinic under a contract that would have given Derzis all the profits and control of the new abortion operation.
Life Legal Defense Foundation immediately complained to the ADPH about the agreement on behalf of Operation Rescue and CEC for Life and the agreement was rejected by the ADPH. The clinic was forced to surrender its license and close down in May, 2012.
In February, 2013, the clinic was once again denied a license to reopen after pro-life groups discovered the new license application and again complained that Derzis remained involved in violation of the consent agreement.
Not ones to be dissuaded by the law, Derzis and Norman reopened the abortion clinic illegally in March of 2013, without having obtained proper licensure. The illegal operations were documented by Operation Rescue and CEC for Life and reported to the ADPH by Life Legal Defense Foundation, which continued to represent the pro-life groups that continued to publicly pressure the ADPH to shut down the illegal abortion operations.
Later that month, the ADPH sued to Derzis and Norman in order to get a judge to halt the illicit abortion business that was operating under the guise of a doctor's office. Life Legal Defense Foundation filed an Amicus brief in support of the ADPH lawsuit.
In August, 2013, Judge Joseph L. Boohaker issued a permanent injunction barring abortionist Bruce Norman from operating an abortion clinic at the location of the former New Woman All Women abortion facility. In October, the judge denied the clinic's motion to life the closure order, ending efforts to keep the clinic open.
However, Operation Rescue and CEC for Life remained vigilant, understanding that another attempt to reopen the abortion clinic could come at any time.
CLICK LIKE IF YOU'RE PRO-LIFE!
At the request of Operation Rescue, Americans United for Life helped craft legislation that was introduced earlier this year that would prevent dangerous abortion clinics like New Women All Women from operating in Alabama. Four of the pro-life bills passed the Alabama House earlier this week.
"This just shows how unstoppable pro-life efforts can be when we work together toward a common goal with each group contributing in their area of expertise. The abortion cartel will try anything to keep their bloody businesses open and making money, but when we determine that we will never give up, we win," said Newman. "Vigilance and speedy responses each step of the way was the key to victory in Birmingham. Now these efforts are being parlayed into permanent legislative gains that will save even more lives in the future. This is a model that can serve as an example to pro-life groups everywhere."
LifeNews.com Note: Cheryl Sullenger is a leader of Operation Rescue, a pro-life that monitors abortion practitioners and exposes their illegal and unethical practices.