Tonya Reaves was 24 and the mother of a one-year-old son when she walked into a Chicago Planned Parenthood clinic in July of 2012 and asked for a second trimester abortion. She never walked out.
Reaves died from complications to her abortion, leaving unanswered questions about circumstances that led to her death.
Soon after, Reaves' family filed a wrongful death suit on behalf of her surviving son, Alvin. On January 22, 2014, the family petitioned to settle the suit with Planned Parenthood for $2 million. Attorneys will received over a half million in fees and expenses, leaving the just under $1.5 million to be paid out in a structured settlement to Alvin when he reaches the age of 18. The delay in payment ensures that Alvin — not a guardian — can decide as an adult how the money will be spent.
"While two million dollars seems like a lot of money, that's just pocket change for Planned Parenthood. If this case had gone to trial, we believe Planned Parenthood may have been forced to pay a judgment much, much larger, and details about Planned Parenthood's suspicious and possibly criminal behavior would have become public," said Troy Newman, president of Operation Rescue who called for a criminal investigation into Planned Parenthood's conduct soon after it discovered that Reaves had died.
While much is already known about what happened to Reaves, including a time line of events that led to her death and her autopsy report that showed she suffered three serious injuries during the risky second trimester abortion, the settlement denied the public a look into the inner workings of how Planned Parenthood fatally mishandled Reaves' abortion and her ensuing complications.
On the other hand, the settlement is evidence that Planned Parenthood simply could not deny culpability for wrongfully ending Reaves' life.
"Now we have documentation that Planned Parenthood is accepting responsibility for Tonya Reaves' death. Their appalling treatment of Reaves exposes how little concern they actually have for the lives of vulnerable women, especially urban women of color who are particularly targeted by Planned Parenthood for abortions," said Newman. "Planned Parenthood's behavior, in my opinion, rises to the level of criminal conduct and should still be investigated as such, especially now that Planned Parenthood has agreed to cough up cash."
Reaves was sixteen weeks into her pregnancy when, according to court documents, abortionist Mandy Gittler conducted an abortion on Reaves at the Loop Health Center Planned Parenthood, located at 18 S. Michigan Avenue in Chicago. The fact that her abortion was said to have been done at that facility remains a mystery since Planned Parenthood's own website indicated that no surgical abortions were available at that particular office. Since second trimester abortions are more complicated procedures requiring special training and equipment, questions remain about whether that facility was adequate for such an abortion and if Gittler was qualified to perform the procedure.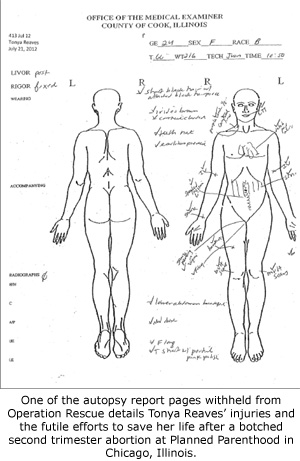 Certainly during Reaves' abortion, something went terribly wrong. Reaves' autopsy report confirmed that she suffered from a perforated uterus, an "extensive" perforation of her broad uterine ligament with a probable severing of her left uterine artery, and an incomplete abortion. As a result, she immediately began to hemorrhage internally. The medical examiner found 1.5 liters of blood inside Reaves' abdominal cavity, which amounted to about half her total blood volume. (Suspiciously, the Medical Examiner initially withheld critical pages of the autopsy from Operation Rescue.)
But if Reaves had been rushed to a nearby hospital immediately, she probably would have survived.
"We have documentation that women suffering injuries similar to those inflicted by Planned Parenthood on Tonya Reaves have survived when the they have received emergency hospital care in time," said Newman.
A case in point was a botched second-trimester abortion conducted by Steven Chase Brigham and Nicola Riley in September, 2010, at a "secret" abortion clinic in Elkton, Maryland. So egregious was the lack of skill shown in the patient's injuries that the Maryland Board of Physicians revoked Riley's medical license and Brigham faces revocation in New Jersey over the incident.
"Even quacks like Brigham and Riley had enough sense to get their injured patient to the hospital, albeit in the most negligent way imaginable," said Newman. "Planned Parenthood showed a far more callous attitude toward Reaves' plight."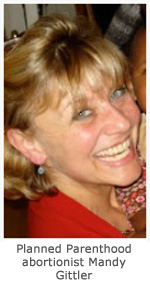 However, in Illinios, Mandy Gittler's license shows no disciplinary action. In fact, her name failed to appear as a defendant on the settlement documents even though she was named in the original complaint. A receipt for attorney fees indicates she was deposed in the case.
In fact, Planned Parenthood staff allowed Reaves to languish at the clinic after having botched her abortion while she hemorrhaged for 5½ long hours before seeking emergency care. Operation Rescue obtained records that show, like Brigham and Riley, Planned Parenthood did not call 911 for an ambulance, which was the quickest way to get help for her, even though they were instructed to do so by an emergency dispatcher during a separate call placed by Planned Parenthood during an unrelated incident earlier on the day Reaves died.
"There's little doubt that Planned Parenthood's incompetence, negligence, and desire for secrecy killed Tonya Reaves, and aside from paying out a sum of money that is essentially insignificant to them, they are getting away relatively scott free," said Newman.
The Thomas More Society is calling for stricter laws to provide oversight to abortion clinics in Illinois. Currently, there is little – if any – abortion clinic accountability or means of ensuring that abortion clinics have basic safety standards and practices in place.
CLICK LIKE IF YOU'RE PRO-LIFE!
"Planned Parenthood joins the likes of Kermit Gosnell in providing substandard care to poor urban women of color who they apparently don't think even deserve as much as a call to 911," said Newman. "We still maintain that the 5½-hour delay in obtaining emergency care for Reaves meets the criterion for the minimum charge of criminal negligence, but there has been no interest whatsoever shown by authorities in Chicago in seeking justice for Tonya or in protecting other women from her plight. That means what happened to Tonya will likely happen again to another unsuspecting woman. It's just a matter of time."
Newman renewed calls for further investigations by the Illinois Medical Board and the Chicago Police in light of the Planned Parenthood settlement.
"This case demands further investigation," said Newman. "There is still a lot that Planned Parenthood is hiding."
LifeNews.com Note: Cheryl Sullenger is a leader of Operation Rescue, a pro-life that monitors abortion practitioners and exposes their illegal and unethical practices.