Abortionist Nicola Riley had been issued a public reprimand and ordered to pay a penalty of $5,000 for unprofessional conduct related to a botched abortion at a secret late-term abortion clinic in Elkton, Maryland, operated by the disgraced abortionist Steven Chase Brigham.
Meanwhile in New Jersey, Brigham has drawn more charges after an interview with the woman who was injured revealed in an interview that she did not sue Brigham for her botched abortion because he did not have the required malpractice insurance. This prompted New Jersey Deputy Attorney General Jeri L. Warhaftig to investigate further. She discovered that the insurance certificate Brigham submitted was for a sham company in the Bahamas that had shut down when the proprietor was convicted of insurance fraud and other crimes. She also found that the receipt he offered as proof of current payment was a fake and that Brigham has not carried the mandatory malpractice insurance since 2006.
In Utah, the Division of Occupational and Professional Licensing (DOPL) issued its final order against Riley on November 25, 2013, after reviewing the final order from Maryland revoking her medical license in that state. Riley was further ordered to "submit an essay describing how she will modify her practice to ensure that any facility in which she practices has an appropriate [emergency] contingency plan."
DOPL further ordered that the $5,000 penalty be stayed pending the outcome of her Maryland license revocation appeal, which is currently progressing through the system.
Previously, DOPL sanctioned Riley for lying about a previous felony conviction while serving in the military to gain admittance to medical school and licensure in Utah. She was ordered to pay a fine of $10,000 and was restricted from conducting abortions pending the outcome of the Maryland case.
Operation Rescue first discovered Riley's misrepresentations about her criminal past and obtained her military records through a FOIA request that proved it.
The most recent order makes no mention of restricting her abortion practices, leading to concerns that she may return to the abortion industry.
"I find it shocking that anyone would allow Riley to practice medicine in any form after lying to multiple medical boards, engaging in illegal late-term abortions, nearly killing a woman, then using the worst possible judgment that further delayed emergency care," said Troy Newman, President of Operation Rescue. "I doubt if an essay on the subject of emergency contingencies will do much to protect the public from her brand of quackery."
In September, 2010, Riley was working for Brigham doing second and third trimester abortions in Elkton. Brigham would illegally induce labor in the women at his headquarters in Voorhees, New Jersey, then would lead a caravan of laboring women down to a secret facility in Elkton, Maryland, where he was training Riley to complete the riskier late-term procedures.
However, Brigham was legally allowed only to abortion up to 14 weeks. To make matters worse, Brigham was never licensed to practice medicine in Maryland.
During an abortion on patient D.B., as she is referred to in legal documents, Riley perforated her uterus and pulled out part of her bowel.
Records state that Riley waited 90 minutes after inflicting the injury before transporting the patient down the block to a nearby hospital via Brigham's private vehicle. Riley had considered placing the woman, with her bowel hanging out her vagina, into a wheelchair and pushing her down the sidewalk to the hospital ER. She refused to call an ambulance, even though the women's condition was serious.
Unbelievably, DOPL found nothing wrong with transporting a patient in her precarious condition via private vehicle, noting that "if a patients s [sic] condition is too critical to wait for ambulance service in a rural or remote area, the use of a private car might well be the best option." (Emphasis added.)
However, Maryland Board of Physicians documents obtained by Operation Rescue show that Brigham's secret Elkton abortion clinic was only one block away from Union Hospital's Emergency Room.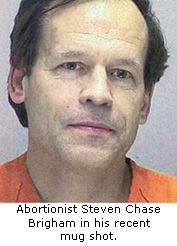 After taking the woman to the hospital, Brigham and Riley behaved suspiciously, stating they were from the "secret late-term abortion clinic in town." Alarmed, the hospital staff notified the police. The patient was transported via Life Flight to Baltimore for emergency surgery to save her life. The surgeon who treated her reported Riley and Brigham to the Maryland Board of Physicians.
Police later raided the Elkton facility and discovered the bodies of 35 late-term babies stored in a blood-smeared freezer. Brigham and Riley were arrested on murder charges in related to the aborted baby remains and extradited to Cecil County, Maryland, where their charges were eventually dropped after an expert witness withdrew from the case.
D.B. eventually sued Riley for malpractice and reached an undisclosed settlement.
Riley's Maryland medical license was first suspended and later revoked based upon her lies about her criminal past and her unprofessional conduct in delaying emergency care for her botched abortion victim. In addition, Riley was forced to surrender her medical license after the medical board there discovered she had lied on her license application there as well.
Maryland issued a cease and desist order against Brigham, lacking the jurisdiction to take more serious measures due to his lack of Maryland licensure. However, in New Jersey Brigham faces several counts of negligence and unprofessional behavior that could cost him the only medical license he has left. Brigham's licenses in at least six other states were either revoked or surrendered under threat of revocation.
Brigham has a long history of ignoring or outright breaking the law beginning shortly after he was fist licensed to practice in 1986. He did a stint in jail in 1998 for billing fraud. Just last month, years after Brigham was ordered not to have anything to do with abortion businesses in Pennsylvania, Integrity Family Health abortion clinic ordered to close after it was discovered that it had deceptively concealed ties to him.
Even if Brigham's license is permanently revoked at a hearing expected sometimes next year, it is doubtful that it would put him out of the abortion business. He continues to operate abortion clinics in New Jersey, Virginia, and Florida with shoddy abortionists who have little better records than he.
CLICK LIKE IF YOU'RE PRO-LIFE!
"The fact that authorities continue to allow dangerous abortionists like Brigham and Riley to exploit the system is appalling and places the lives of women in continual danger. It is clear both are proven liars and habitual law-breakers. Even the abortion groups who traditionally defend even the most heinous acts of abortionists understand how dangerous Brigham is and have publicly thrown him under the bus. If these groups can see how bad he is, it should be obvious to authorities in every state he is doing business. Pro-life groups in states where Brigham mills operate should be forwarding news articles and documents related to his every misdeed to medical boards and state attorneys general demanding legal action to close his clinics," said Newman. "Brigham and Riley simply do not respond to traditional forms of discipline. The only way to ensure that they are not out there victimizing people is to lock them up. Somehow, even though Utah has given Riley what amounts to a slap on the wrist, we hope that New Jersey can find a way to put Brigham out of business and behind bars where he belongs."
LifeNews.com Note: Cheryl Sullenger is a leader of Operation Rescue, a pro-life that monitors abortion practitioners and exposes their illegal and unethical practices.