The Obama administration came under fire last week for a presentation that classified Catholics and Evangelical Protestants as "extremist" religious groups in the same vein as al Qaeda and the Ku Klux Klan.
The Washington Free Beacon has more information about the Defense Department presentation:
The presentation detailed a number of extremist threats within the U.S. military, including white supremacist groups, street gangs, and religious sects.
The presentation identified seventeen religious organizations in a slide titled "religious extremism." They include al Qaeda, Hamas, the Filipino separatist group Abu Sayyaf, and the Ku Klux Klan, which the slide identifies as a Christian organization.
"Religious extremism is not limited to any single religion, ethnic group, or region of the world," the slide explains, in language that closely resembles the text of a Wikipedia page on "extremism."
While outfits such as al Qaeda and the KKK are explicitly violent, the presentation also lists Catholicism and evangelical Protestantism as extremist groups.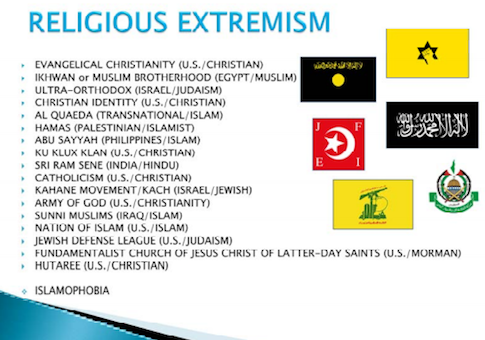 More than half of all Americans identify themselves as members of those two Christian denominations. National Public Radio reported in 2005 that 40 percent of active duty military personnel were evangelical Christians.
An Army spokesperson said the presentation "was produced by an individual without anyone in the chain of command's knowledge or permission." The Army removed the offending slide after receiving complaints.
The person responsible for the presentation, the spokesperson said, "was not a subject matter expert, and produced the material after conducting Internet research."
The Obama administration has repeatedly called pro-life advocates terrorists and extremists.
CLICK LIKE IF YOU'RE PRO-LIFE!
In January 2010, President Barack Obama's nominee to head the agency charged with keeping American travelers safe from terrorism said as much. A video showed Transportation Security Administration nominee Erroll Southers including pro-life advocates in a list of terrorist groups.
In May 2009, details emerged about a terrorism dictionary the Obama administration had put together in March. The "Domestic Extremism Lexicon," was essentially a terrorism and political extremism dictionary for the Obama administration's internal use.
That followed a report the Department of Homeland Security sent out saying pro-life advocates were right-wing extremists.