The Kermit Gosnell murder trial opened Tuesday with a heated dispute over the prosecution's toxicology expert witness that soon degenerated into a loud shouting match between defense attorney Jack McMahon and Judge Jeffery Minehart, who ordered McMahon to sit down.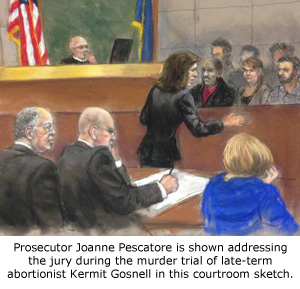 According to a local news report, minutes after the argument between McMahon and Judge Minehart, McMahon exchanged angry words with prosecutor Joanne Pescatore in the hallway outside the courtroom that also escalated to the point of shouting.
McMahon objected to prosecutors calling Dr. Timothy Rohrig, a toxicologist and director of Sedgwick County Regional Forensic Science Center in Wichita, Kansas, who was supposed to testify about the concentration of Demerol in Karnamaya Mongar's blood. McMahon argued that there was no scientific basis for Rohrig's conclusions based on analysis of blood drawn from Mongar's heart after her death.
Rohrig has some experience in abortion death cases, having signed off on the toxicology findings included in the autopsy report of Christin Gilbert, who died in 2005 from complications to a third trimester she received from LeRoy Carhart in Wichita.
Judge Minehart halted the trail and dismissed the jury until he could hear further arguments related to the admissibility of Rohrig's testimony. After McMahon's five-hour attempt to prevent Rohrig's testimony from reaching the jury Minehart ruled that Rohrig should be allowed to testify.
"Obviously, defense attorneys have a duty to help their clients, but there is just something despicable about a defense tactic that blames the murder victim and attempts to justify unspeakable horrors at the expense of the innocent," said Troy Newman, President of Operation Rescue and Pro-Life Nation. "Because the defense is so desperate, it is likely that yesterday's drama is not the last courtroom theatrics we will see from them."
The jury was returned to the courtroom in the afternoon and Rohrig took the stand. Rohrig testified that the toxicology results revealed that 710 micrograms-per-liter of Demerol were present in Mongar's system after her death. While the exact dosage was unclear, the results indicated she was given more than the 150 mg of Demerol that Gosnell's defense attorney claims.
CLICK LIKE IF YOU'RE PRO-LIFE!
"It was more than 150 and probably a lot more than 150," Rohrig told the court.
Gosnell is accused of committing third degree murder when he allowed an unqualified worker with only a 6th grade education to fatally overdose the 100-pound woman with Demerol a cheap drug that is no longer preferred due to its many documented complications. He also faces 7 charges of first degree murder for his routine practice of snipping the spinal cords of newborn babies that were born alive during late-term abortions.
LifeNews.com Note: Cheryl Sullenger is a leader of Operation Rescue, a Kansas-based pro-life that monitors abortion practitioners and exposes their illegal and unethical practices. The group is known for serving as a watchdog of Planned Parenthood and other abortion businesses.