Shawnee County District Attorney Chad Taylor issued a statement Friday saying that there would be no criminal charges filed against Sebelius-era appointees in the destruction of critical evidence in a massive criminal case against Planned Parenthood.
This statement raised eyebrows and even more questions about the dubious handling of the Planned Parenthood criminal case under the administration of former Gov. Kathleen Sebelius, who now serves as Secretary of Health and Human Services.
Taylor indicated that documents shredded under the watch of former Attorney General and Sebelius appointee Steve Six in April, 2009, did not pertain to Planned Parenthood, but were records related to the prosecution of Wichita abortionist George Tiller.
Curiously, no mention was made of what happened to the Termination of Pregnancy (TOP) forms that were the basis of 49 felony charges filed against Planned Parenthood that were dismissed on November 9, 2012, even though that question was supposed to be the object of the investigation. Those forms are now missing.
Johnson County District Attorney Begs to Differ
Taylor's statement completely contradicts statements made by Johnson County District Attorney Steve Howe in court on November 9, 2012.
"I disagree with some of his factual assertions," Howe told the Associated Press. "To me, it doesn't change anything."
At the November hearing, Howe explained to Judge Stephen Tatum that his investigation determined that former Attorney General Steve Six had destroyed the copies of TOP forms obtained through subpoena under former Attorney General Phill Kline. The destruction took place after former District Attorney Phill Kline had filed the charges in 2007 and while elements of the case were under appeal. Howe indicated that the destruction of the evidence by Six's office "may have violated their own retention policy."
49 Criminal Charges Counts Dropped
On Howe's word that the crucial evidence was destroyed, Judge Tatum dismissed the 49 criminal charges, including 28 felony counts related to document forgery. Howe continues to prosecute Planned Parenthood on the remaining 58 misdemeanor charges related to illegal late-term abortions.
Attorney General Seeks Investigation
After Howe's November revelation of evidence destruction under the Sebelius Administration, current Attorney General Derek Schmidt asked the Shawnee County Sheriff's Department for an "independent" investigation since the shredding allegedly took place under Schmidt's predecessor.
"This investigation was supposed to answer questions about the document destruction and help everyone get to the truth. Instead the investigation has created more confusion, more questions, and more suspicions of corruption," said Troy Newman, President of Operation Rescue and Pro-Life Nation.
"The independence of this investigation has to be called into question. Chad Taylor is a Democrat and friend of Sebelius. Given the long history of political interference by Sebelius' Democratic cronies in Kansas abortion investigations and prosecutions, Taylor should have removed himself from the equation to avoid any appearances of impropriety."
Date Investigated, Not the Act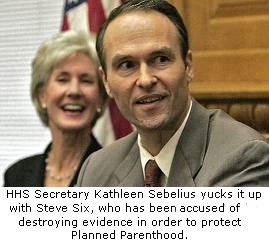 Taylor's investigation centered on the April, 2009, document destruction under Six. If indeed that incident only involved Tiller records, the question of what happened to the Planned Parenthood records remains unanswered.
"Taylor's investigation was supposed to determine what happened to the Planned Parenthood records. Apparently he did not do his duty in this matter because we still don't know what happened. What is the purpose in releasing confusing statements like Taylor did if not to further cloud the issue and prevent the public from learning the truth?" asked Newman. "A Federal Investigation is in order, but with Sebelius now serving on Obama's Cabinet as Secretary of Health and Human Services, it is questionable if the Justice Department will give corruption under her former Kansas administration a serious look."
Planned Parenthood Attorney's Shocking Admission
However, one person claims to have seen the records as late as last fall. Planned Parenthood attorney Pedro Irigonegaray told the Associated Press that "the documents that Howe said were destroyed still exist and were held by the attorney general's office as of last fall, when he was allowed to examine and take inventory of boxes of abortion-related documents with members of Howe's and Schmidt's staffs there."
In spite of this apparent knowledge, Irigonegaray stood in court at that November hearing and agreed with Howe that the documents had been destroyed, prompting Judge Tatum to dismiss the most serious charges against his client, which were based on that evidence.
Questions Left Unanswered
Serious questions remain:
Why did Chad Taylor's Sheriffs not investigate the Planned Parenthood record destruction itself, and not just the date the records were alleged to have been destroyed?
If the TOP forms were known to be in the Attorney General's possession as of last fall, on what basis did Howe determine they had been destroyed by Steve Six, who left office in January 2010?
Why would Schmidt ask for an "independent" investigation into the destruction of evidence if the files were in his possession? (This one makes no sense.)
Were the 49 felony counts against Planned Parenthood dropped under false pretenses?
If the files still exist, where are they now?
If the files ever surface, can the charges be reinstated?
Planned Parenthood's attorney Pedro Irigonegaray said he inventoried the boxes containing the missing documents last fall. Perhaps Irigonegaray should be required to produce his inventory for inspection. At this point, given his willingness to hide the truth in open court, the veracity of any of Irigonegaray's statements must be questioned.
Questions of Political Corruption Must Be Answered
"Those outside Kansas may not fully appreciate the complex history and political entanglements of this case, but for those of us who have been following it since the abortion investigations first began in 2003, we can attest to the fact that the abortion investigations, the attempted prosecutions, and the revelations of political corruption that have obstructed the entire process have severely impacted this state and now the nation," said Newman.
"Certainly the powers that be do not want HHS Secretary Kathleen Sebelius further sullied, and it appears that her cronies here in Kansas continue to cover up for obstruction of justice under her administration."
Meanwhile a hearing has been scheduled in the Planned Parenthood criminal case for March 29, 2012, but court records show there may be a continuance.
"There is now doubt that all eyes are on Planned Parenthood's prosecution," said Newman. "It is important for this case to move forward and for the truth about the missing records to be told so that people do not lose faith in the justice system."
LifeNews.com Note: Cheryl Sullenger is a leader of Operation Rescue, a Kansas-based pro-life that monitors abortion practitioners and exposes their illegal and unethical practices. The group is known for serving as a watchdog of Planned Parenthood and other abortion businesses.