This is not the kind of article one would usually expect from us at Operation Rescue, but it is one that touches on the heart of why we respect life enough to protect and save it. It is about the death of Indycar driver Dan Wheldon, and why it was so avoidable.
I have to confess that I am a rabid fan of IndyCar Racing. Not NASCAR, mind you. That's a totally different beast. I love the sleek Dallara chassis with the open wheels and cockpits racing around a track at almost incomprehensible speeds of up to 225 blazing miles per hour.
I have my favorites, of course. Helio Castroneves is my IndyCar hero in his lean, mean Number 3 Penske machine, but I was satisfied to see another of my favorites, British driver Dan Wheldon drink the milk in victory lane at this year's Indy 500, his second win at the storied Brickyard.
Last Sunday, my family gathered around the television, as is our custom, to watch the final race of the season to be held on a Las Vegas oval track that was built for NASCAR. We wanted to cheer for Helio or see Dan dash for the cash. In addition to the fact that a championship would have been decided, IndyCar CEO Randy Bernard offered $5 million to any driver who could go from last to first. Wheldon, finding himself this year without a full-time ride, took the challenge.
But I had my misgivings. As I followed race after race this year it became more than apparent that the safety of the drivers was not the first concern of IndyCar officials.
At the beginning of the year, IndyCar instituted double file restarts. Cars now line up two by two, instead of single file to take the green flag at the beginning of races and after each caution period. The result is a field of bunched up cars diving for Turn 1 on tracks that often have one safe lane.
Three-time IndyCar Champion and twice winner of the Indy 500 voiced his deep concerns. "I don't agree with it at all," he said. "You're turning Turn 1 into a logjam…I just told [Chief Steward Brain Barnhart] what I thought, and it's not just me. It's every driver."
But safety concerns notwithstanding, the double file restarts have persisted. Why? Because IndyCar is struggling for sponsors and fans. It needs headlines. The double file restarts, while dangerous for the drivers, create excitement that CEO Randy Bernard thinks will translate into dollars. The lives and safety of the drivers takes second place to ticket sales and TV ratings.
Then came Louden, New Hampshire. It was raining, and for some reason, the cars were not carrying their rain tires. Late in the race, the cars lines up for one of those notoriously dangerous double file restarts after an accident involving Franchitti and Japanese driver Takuma Sato. The misty rain created a glassy surface that the slick tires could not grip. The radios lit up with pleadings from the drivers not to restart the race.
"I begged them not to do it," said Australian driver Will Power, who was competing strongly against Franchitti for the Championship. "We were all on the radio. [Penske boss] Tim Cindric said all the other drivers were saying the same thing. It was just unnecessary – we did not need to do that."
But with only a few laps to go, Race Control thought ending the race on a yellow flag might cost them ratings. The green flag dropped, the drivers hit the throttle, and five cars crashed before the pack hit the starting line. Included in that was Will Power, who was slammed into the wall by another driver skidding helplessly across the track. So upset was Power that in a moment of anger and frustration, he was caught on national television famously flipping the Race Control booth a gesture that became known as the "double angry birds."
While I don't condone that, I could hardly blame him. It was another bad decision by Indycar CEO Randy Bernard and Chief Steward Brian Barnhart that reflected a lack of respect for the lives of the drivers.
The results of the race were a confusing mess. Cars were placed and awarded points in such a way as to preserve the two-man championship battle between Power and Franchitti at the expense of other drivers. Results were, in my opinion being manipulated to keep the championship close, but not decided, until the final race of the season – for marketing purposes.
Driver Scott Dixon commented on that race and the aftermath of confusing and contradictory decisions that left everyone wondering if there was any fairness left in the sport. "It could be better if they didn't screw with the results the way they have," said Dixon. "After today, I don't know why we have a rule book. We don't."
Bernard's response was telling. "The drivers, their job is to race and do what they get paid to do."
In other words, "Just shut up and drive."
Then in Kentucky several things happened that was a harbinger of things to come.
There had been a change in the configuration of the pit lane entrance and exit that created a blind spot at pit out. It was a dangers situation for the drivers, who couldn't see what was coming as they left the pits.
Franchitti was more than concerned. "Whoever changed the design and thought it was a good idea needs to look for another job," he said. "That's plain dangerous. It's ridiculous. You can just go one wide. It's one car plus a foot on the other side. The width and the fact that there is a wall there makes it completely blind."
Will Power also expressed his concerns compared it to a similar situation in 2001 where a driver lost his legs in an accident. "We all have to be careful," Power said.
But in spite of the dangers, the drivers did what they were paid to do. They drove, and as feared, part-time driver Pippa Mann crashed while exiting pit lane.
Bernard had come up with his $5 million dollar scheme to help promote the final race in Las Vegas. Dan Wheldon would be racing for the prize money that he would split with a lucky fan. Team owner Sam Schmidt put Wheldon into Alex Taglini's Number 77 machine, the car that won the pole position at the Indy 500. Schmidt had a strategy to give Wheldon the best chance at winning the $5 million. It involved entering Wheldon in the race at Kentucky.
Pit assignment at Las Vegas would be awarded based on where a driver qualified in Kentucky. Schmidt had hoped that Wheldon, coming off a stint of trails with the new 2012 chassis design, would qualify well and earn a good pit assignment in Las Vegas that would benefit him in his race to the front. However, when Wheldon's car went through the tech inspection, it somehow managed to fail. Schmidt told reporters that he did not understand why the car failed, because the part the inspectors complained about had been on the car all year.
This led some of us to conclude that organizers would do about anything to keep Wheldon from winning the $5 million dollars. When the 34 car field was announced for the Las Vegas mile and a half oval, it only added to the suspicions and to the concerns. It's a lot harder to pass 34 cars than it is 28. The deck had been stacked against Wheldon.
In order to enter 34 cars in the Las Vegas finale, the rules of Indycar had to be waived. Specifically, the rules state that no field shall exceed 28 cars, except for the Indy 500, where the 2½-mile gently banked oval can safely accommodate 33 cars. Putting 34 cars on a steeply banked mile and a half oval was absolutely unheard of – and against the rules.
The result was disastrous.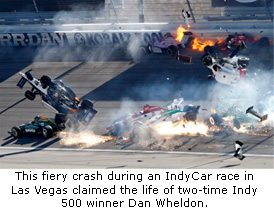 As the race was about to begin, the drivers kissed their wives and sweethearts then dove into their cockpits for the race of their lives. The green flag dropped and I held my breath.
The initial laps were tense. Racing at speeds of 220 miles per hour the cars formed a pack that ran three wide, nose to tail. There was no room for error. There was nowhere to go. More than once in the first 11 laps I gasped at the sight of whisps of smoke as cars brushed tires at impossible speeds.
Then it happened on lap 12. One car brushed the next car a little too hard. The back end of the car stepped out pushing the nose in front of J.R. Hildebrand's National Guard car, launching him into the wall. Those behind either could not react in time or were collected as cars spun out of control. Faster cars coming up from behind hit the slower cars and launched 20 feet into the air, and burst into flames as they impacted the wall and safety netting. The track was riddled with fiery debris and wrecked cars.
In all, fifteen cars were damaged or destroyed. Three drivers were injured. Dan Wheldon lay dead.
The race was suspended. Drivers wept in their pits. The stands emptied.
Before the race, Will Power, who had voiced concerns repeatedly throughout the year that the Indycar officials had little concern for the lives of the drivers had a premonition that he shared with his father. "He told me before the race that someone is going to get killed out there," said Bob Power.
He was right. It was as avoidable as it was predictable.
The decision makers at IndyCar need to be held accountable for negligently risking the lives of the drivers. They turned a deaf ear to months of driver concerns for safety, not to mention fairness in the way rules were applied. They knew breaking the rules and putting 34 cars on a steeply banked mile and a half oval was dangerous, but they did it for the promotional value. Push the envelope. Increase the danger and you increase the excitement. They wanted headlines. They wanted ticket sales. They wanted ratings.
Well, they got headlines and I hope they're happy because it cost enough. My heart breaks to think of Dan's wife Susie and their two young boys Sebastian and Oliver, going on without their husband and father. The boys are so young they will hardly have a memory of their Dad. It is all too tragic.
The fatal crash has taken a deep toll on some of the drivers. A grief stricken Tony Kanaan cancelled a race in Australia that he had planned to participate in with his now departed friend. Just his morning Will Power tweeted, "Can't sleep again…still can't believe what happened."
Many are trying to assign blame. Some call for an end to oval racing. Some think the cars are not safe, or the catch fence needs to be modified. But it's not the track or the cars or even the drivers that caused this tragedy.
It was those who made negligent decisions in their blind drive to increase revenue at the expense of the safety of the men and women whose lives they were risking. It was the fault those who respected money over life.
When life is devalued in one sector of society, all life becomes cheap. Unborn babies are a commodity to be trashed. Women are subjected to substandard abortion chop shops because their lives mean less than the buck that can be made off them. Elderly folks and the disabled are starved to death in nursing homes because it isn't cost effective to care for them anymore.
It's no wonder that this lack of respect for life has leached into other aspects of our existence. Dollars are more important than people. It's got to stop across the board.
Those who made the negligent decisions that ended in the death of Dan Wheldon need to be held accountable. At the least, if Randy Bernard had any sense of decency left in him, he should fire Brian Barnhart and then resign. There should be an inquiry.
If IndyCar is ever to grow and flourish, the changes that need to be made are in the hearts of the men who run the sport. They must respect life enough to protect and save it.
Until then, I'm not sure I will ever be able to bring myself to watch another race.
LifeNews.com Note: Cheryl Sullenger is a leader of Operation Rescue, a Kansas-based pro-life that monitors abortion practitioners and exposes their illegal and unethical practices. The group is known for serving as a watchdog of Planned Parenthood and other abortion businesses.