"On a plane bound for the Midwest from an East Coast city, a lanky 55-year-old woman sits in the 12th row window seat, knitting a sweater.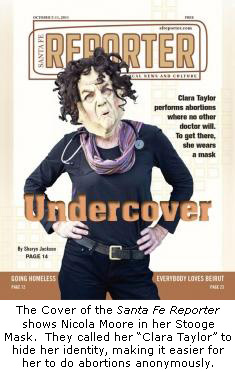 Her waist-length, wavy white-blonde hair is held up in a bun behind her head by a pair of silver knitting needles, while another set clacks away at a gray top. Knitting is her way of keeping busy on this and the many other flights she must take for her unusual, and these days much in-demand job as a traveling abortion doctor, or as she puts it, a 'fly-in abortionista.'"
So begins a story published on October 5 in the Santa Fe Reporter describing a "circuit-riding" abortionist who travels to the Midwest to ply her grisly trade. She wears a creepy Stooge mask to hide her identity and dives under blankets in the back seat of vehicles to keep pro-life activists from photographing her.
The article calls her "Clara Taylor" but we know her by her true name, Nicola Louise Moore.
Moore works as an independent contractor for Planned Parenthood of the Heartland, doing surgical and medical abortions at their recently opened abortion clinic in Omaha, Nebraska, and at the main office on Army Post Road in Des Moines, Iowa, as well as PPH's three other Iowa abortion clinics in Iowa City, Bettendorf, and Sioux City.
In addition to Iowa and Nebraska, Moore is licensed in Massachusetts, New York, and California, where her license is delinquent.
Moore was born in London, England and educated in America. She attended Yale University where she earned Bachelor's and Master's Degrees. She graduated with her doctorate from Albert Einstein College of Medicine in 1999, and served her residency at the University of Rochester, in New York.
The focus of her practice has always been on abortion. In fact, she turned down a job at an Indian Reservation in New Mexico because Federal policy did not allow her to do abortions there.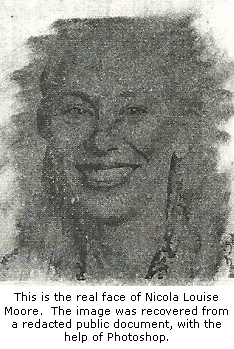 In the article, Moore confesses that she has never married – her busy schedule wouldn't permit it. And she confesses something else — that at 18 she had an abortion while a student at Yale University in 1974.
Freedom from relationships made it easy for Moore to travel abroad providing abortions in third-world African and South American countries. But in 2004, it was her relationship with her aging mother, who she strongly resembles, that brought her home. Moore continues to stay with her mother, Sally Falk Moore, Professor of Anthropology, Emerita at Harvard University, at her home in Cambridge, Massachsetts.
From there, Moore flies around the nation doing abortions where few others will. But there is a catch. She's happy to do abortions anywhere, as long as no one knows who she is. She worked in Mississippi briefly last year, until pro-life activists discovered her identity in spite of the mask and other efforts to disguise herself. Then she quit.
"Abortionists don't deserve anonymity," said Operation Rescue President Troy Newman. "It keeps them from being held accountable for their actions. In some states, patients aren't even told the full names of their abortionists and when things go wrong, women don't even know who to file a complaint against."
Identifying abortionists has helped Operation Rescue and other pro-life groups to warn women of abortionists with histories of abortion abuses.
"People who are proud of their work are willing to put their names on it. People who are ashamed or are trying to get away with something, like bank robbers and abortionists, wear masks," said Newman. "It's time to unmask Nicola Moore and allow Christians to pray for her — as a post-abortive woman and as an abortionist — to seek repentance, salvation, and healing through the Great Physician, Jesus Christ."
Note: All information contained in this article was obtained through public sources. Read the full article from the Santa Fe Reporter (In this article, the author indicates that New Mexico has no fly-in abortionists. That information is incorrect. Abortionists Shelley Sella and Susan Robinson, employees of Southwestern Women's Options in Albuquerque, New Mexico, fly in from their homes in California to do late-term abortions.)
LifeNews.com Note: Cheryl Sullenger is a leader of Operation Rescue, a Kansas-based pro-life that monitors abortion practitioners and exposes their illegal and unethical practices. The group is known for serving as a watchdog of Planned Parenthood and other abortion businesses.